Defying the double dip down in the valleys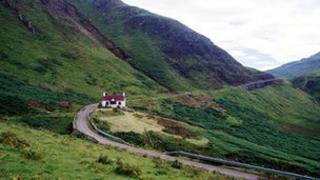 Do people who live amid mountains make for hardier survivors of economic downturn?
There may be an economics PhD to be written on this subject, but the Federation of European Employers (FedEE) has today taken a first stab at the idea.
On the day that a new snapshot of European unemployment is published by the European Commission, it reflects on the wide variations in unemployment and where it's at its worst.
The latest figures show even German unemployment has seen an unwelcome uptick, the sharpest in two years.
More than 10% of working age Europeans are registered as seeking work, and that rises to nearly 23% for young people, with those figures edging upwards. The UK and Scottish figures are a couple of percentage points lower, on both counts.
While some economic indicators close to home turn a bit more positive, after our own double-dip winter, the Purchasing Managers Indices across Europe are rapidly heading south, helping to explain why the euro is weakening against sterling.
Spanish holiday
But on unemployment, it's Spain that's got the biggest problem, by far. While unemployment in other parts of Europe varies between 3% and 19%, unemployment in Spain is nudging 25%, and youth unemployment (as in Greece) is topping 50%. Spain represents around 28% of all of Europe's unemployment.
That may have to do with the way in which Spanish people register as unemployed. Anecdotal evidence from my Spanish holiday last autumn suggested a lot of local people were returning to the country from towns and cities, and the cash economy was growing rapidly at the expense of the formal, taxed one.
FedEE's director, Robin Chater, points out that rises much higher for those with low levels of qualification. Among those with only basic secondary education across Europe, only 45% are in work. That rises to 68% for those with higher school and intermediate qualifications and to 82% for those that went on to university.
But he's pointing out, in a speech today, that geography is more important than education level. And using a relief map of Europe, he's pointing out that all but one of the six regions with the lowest unemployment have mountains in common; they're in Austria, Italy, Norway and Switzerland. And the region of the Netherlands with low unemployment is, as you might already have guessed, deficient in the mountain department. Indeed, Zeeland is below sea level.
Industrial decline
"What low unemployment regions teach us is that good natural resources, communiations, a pleasant climate and even high educatinoal levels are less significant than the hardiness of the population," suggests Mr Chater. "Mountain peoples tend to be more resourceful, frequently having more than one job and making the most of seasonal variations."
What we might call the Heidi Theory is a provocative one. And how does it apply in Scotland?
Well, the claimant count is measurable across each of Scotland's 32 councils. And all of those which you might describe as mountainous are below average.
Aberdeenshire has the lowest unemployment, Perth and Kinross the fifth lowest, while positions eight, nine and ten are occupied by Moray, Highland and the Borders.
There seem to be rather more persuasive explanations for those doing well, such as the presence of oil and gas offshore, or the relative absence of industrial decline in recent decades.