Carnegie UK Trust warns library services 'must adapt'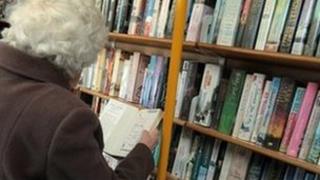 Public library services need to adjust and develop to "a changing world" in order to keep attracting visitors, a charity has warned.
The Carnegie UK Trust said in a report that libraries were at a "crossroads".
The warning came as an Ipsos-Mori poll conducted for the trust suggested 76% of Scots thought libraries were still important or essential to their community.
It also suggested 61% of Scots used a library at least once in the past year.
This was higher than any other part of the UK.
However, the trust argued changes were needed to respond to reduced levels of public spending, the challenges and opportunities of the digital age and changes in people's lifestyles and patterns of behaviour.
It said public library services and library buildings must be viewed separately.
Chief executive Martyn Evans said: "It's clear that people in Scotland still love their libraries, but library services need to develop innovative ways of attracting visitors and providing a new range of relevant services, along with a re-think about how the buildings are used as community hubs.
"Libraries need to be able to demonstrate the impact they have on a wide range of social indicators such as health and wellbeing, employment, and digital inclusion."
Adapt and evolve
Author Ian Rankin said technology and changes in the way people lived were having a huge impact on what communities wanted and needed from libraries.
He added: "It's crucial that the services they provide adapt and evolve so that they remain as treasured in the future as they are now, providing a free yet invaluable service that underpins education, creativity and lifelong learning."
The trust said a number of councils had shown examples of "good practice", including Orkney's use of social media, South Ayrshire's e-publishing initiative and the City of Edinburgh Council's smartphone app, which shows library locations, events, bus links and other information.