Death row Scot Kenny Richey jailed for threatening judge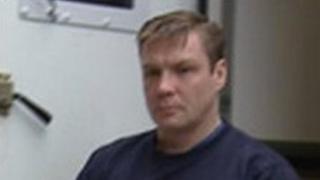 A man from Edinburgh who spent two decades on death row in America is back in prison after threatening a judge.
Kenny Richey was jailed for three years for leaving a threatening phone message for the judge who had prosecuted his original case.
Richey served 21 years after being convicted of setting a fire that killed a two-year-old girl in 1986.
He was released in 2008 under a plea deal after it was determined his lawyers had mishandled that case.
In the months following his release, the former marine, who was born to a Scottish mother and American father, returned to Edinburgh.
However, he later made his way back to the US.
The court in Ohio heard that Richey was at his home in Tupelo, Mississippi, when he left the message for county judge Randall Basinger, warning that he was coming to get him.