Scottish trauma care 'needs major rethink'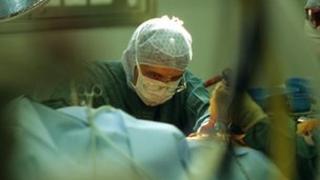 Scotland is falling behind other parts of the world in its provision of care for victims of major trauma, according to a new report.
The report found mortality for severely injured patients who are alive when they reach hospital is 40% higher in the UK than in North America.
This has led to a shift in healthcare policy in England, the Royal College of Surgeons of Edinburgh study said.
But the situation in Scotland has not yet been addressed, it added.
Major trauma is classed as injuries which could potentially result in permanent disability or death. It includes car accidents and injuries where emergency surgery is required.
Trauma is the leading cause of death for people under the age of 45, and is responsible for about 1,300 deaths a year in Scotland.
It is also the commonest cause of death in children, and is responsible for more deaths in children and adolescents than all other causes combined.
Dedicated centres
The report recommended the development of a trauma system across Scotland which focused on reducing disability as well as deaths.
Treatment of major trauma would be carried out at a small number of dedicated centres serving a wide geographic area.
These centres would have access to all the necessary specialties on one site, and would be fully resourced with equipment and medical staff to deal with major trauma.
Less severe cases could be dealt with in less specialised trauma centres, which would have a more regional focus and an intake from the local catchment area.
Ian Ritchie, the Royal College's vice-president and a member of the working team that compiled the report, said trauma care in Scotland was generally of a "very high standard".
He added: "However we can do better for those people who are very seriously injured. This report represents the beginning of a process which we hope will ultimately provide even better services for our patients in Scotland.
"The model recommended by the report is equivalent to that in North America and the one being adopted in England.
"Major trauma treatment requires a precise set of skills and knowledge; it also needs to pull expertise from a wide range of specialties and resources.
"Under the current system in Scotland, major trauma patients are sent for treatment at the nearest local hospitals which may not have access to all the resources and specialisms needed."
'Final treatment'
In the past it had been thought that the system recommended in the report would not work in Scotland, Mr Ritchie - a consultant orthopaedic surgeon at the Forth Valley Royal Hospital - added.
This was mainly because the country's terrain, coupled with the way communities are dispersed, which could mean longer journey times for patients needing to reach specialist care.
However, it is now believed that, as long as the patient is stabilised, the length of the journey to final treatment is not as crucial as once thought.
"It is more important that the patient is delivered as soon as possible to a hospital and a team which is fully equipped to deal with the unique requirements of major trauma patients," Mr Ritchie said.
"If necessary, under the new system, major trauma patients could be taken to a local trauma unit to be stabilised but it would be crucial they were then transferred to a major trauma centre as soon as possible.
"Experience suggests that major trauma patients and their families would accept a longer journey in the knowledge that they are in the best place and receiving the best care available."
The report also stressed that more research, discussion and consultation was essential to analyse further the requirements and to determine the exact configuration of any resulting new system.