Ticketus contract with Rangers 'is being terminated'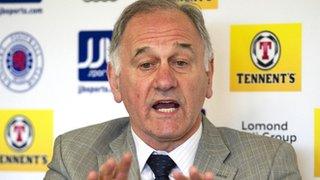 Administrators at Rangers Football Club have told Ticketus they are terminating its contract over future season ticket sales, it has been claimed.
The claim was made by Charles Green, who is leading the consortium which is on track to take over the club.
London-based Ticketus are owed £26.7m from a deal struck with chairman Craig Whyte last May for the future sale of three years' worth of season tickets.
Mr Whyte gave personal guarantees to Ticketus over capital issued to Ibrox.
Earlier this month, Ticketus formally launched legal action against him over money it was owed.
The finance firm purchased tickets from the club at the time of the businessman's takeover last May.
Sources close to Ticketus described the apparent move to terminate the contract as "a formality" as it was already being treated as a creditor in a CVA, which implied the ticket deal would no longer stand.
It is understood Ticketus will not appeal against its termination.
Mr Green made the revelation about the Ticketus contract in a statement which followed several meetings with supporters' representatives.
Price freeze
"My initial thoughts prior to these meetings was that season tickets prices should be increased as they had not been raised in the last three years," he said.
"However, taking on board the fans' concerns, I can confirm that when my consortium completes the purchase of Rangers and takes over the running of the club, season ticket prices will be frozen for next season.
"The club's administrators have informed me they have written to Ticketus to terminate the agreement that is currently in place with the club and supporters can now take heart from the fact that season ticket sales will be as normal."
He added: "Once we are in a position to issue season ticket renewals, and that will be as soon as possible, I would urge all fans to continue showing the tremendous support they have given to the club."
Mr Green added that in view of the public announcement this week that the Plus Market was to close, the consortium intended to make arrangements to list Rangers Football Club on an alternative market "at the earliest opportunity".
Sevco consortium
The English venture capitalist is leading a "worldwide consortium" which has agreed an £8.5m deal to buy Rangers.
He has said there were 20 individuals from Asia, the Middle East, Far East and the UK are involved.
And Green has revealed two of the names involved in his Sevco group: Indonesian investor Jude Allen and Mazen Houssami, a lawyer from the Middle East.
"These two are very prominent in their areas," Green told the Rangers website.
"And in addition to these two names there is also a Singapore family trust."