Stark Talk: Marian Leven and Will Maclean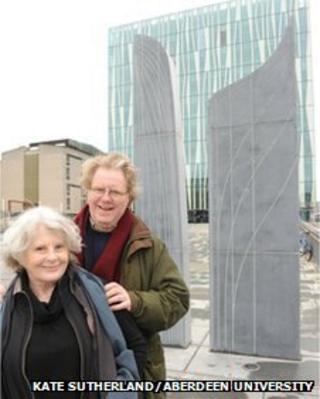 Will Maclean is an internationally recognised artist who uses "found" objects.
But his wife Marian, who is also a well-known artist, says beachcombing for interesting wooden debris is not as productive as it once was.
There is too much plastic being washed ashore these days, she says.
Luckily, Will told BBC Radio Scotland's Stark Talk : "I have got a couple of sheds full of bits and pieces, everything from broken pianos to old fish boxes.
"Sometimes when I am really stuck I go out and address the assembled mass of objects, looking for some kind of hope for the future."
Will is known as a foremost exponent of box construction art. His found material is used to conjure images of Highland culture, often related to the sea.
He says: "My mother is from Skye and father is from Wester Ross. Although I grew up in Inverness, it was in a west coast enclave.
"I grew up with general stories about the culture and the social history of the west coast and that has always informed my work."
His wife Marian Leven is a painter whose work suggests depths of emotion as well as Scottish wind and weather.
The pair met a Gray's Art School in Aberdeen 50 years ago.
They were a girl from Auchtermuchty and a man from Achiltibuie, says Will.
Marian says: "I saw this slim, red-haired man coming down the stairs and I thought 'that's the kind of man I want to marry'.
Will talks of his wife as a "wonderful, vivacious, curly red-haired girl".
Recently they went back to the Granite city to work on Waterlines, the sculpture outside the Aberdeen University library.
The artwork is based on the form of the iconic Aberdeen-built tea clipper Thermopylae, betraying yet again an interest in the sea.
The pair live in Tayport in Fife, close to the sea which inspires them both, but closer to Marian's roots than Will's west coast heritage.
They have brought up three children including Miriam, born in 1971.
Marian tells how a doctor took her out of the ward after Miriam was born and announced she had Down's Syndrome.
She says: "He said that I didn't need to take her home if I didn't want to. I could just leave her in hospital and she would be taken into care.
"If I did take her home there was nothing I could do except love her because she would not live past the age of 18."
Will says: "It was brutal. They left Marian to explain it to me. A very supercilious doctor just repeated she will never amount to anything and leave her if you want. It was just awful. The complete lack of any kind of support."
He says that Miriam has taught them never to look too far to the future.
"We took each day as it came and as long as things were ok that day that was fine," Will says.
"Now she's 41 and she's an incredibly bright, interesting person."
The pair have two other children.
John Maclean recently won the best short film Bafta for 'Pitch Black Heist' which he wrote and directed, and which starred his friend Michael Fassbender.
Their other son David is the drummer and producer of Django Django, a hip psychedelic quartet.
It was Marian who put her career on hold to bring up the children, although she says she managed to keep teaching and painting throughout.
But over the past 20 years she has found more time to paint and has her own studio, separate from her husband.
Marian admits that she is not viewed as "equal" to her husband in artistic terms.
"Possibly because he has a history in the art world that I don't have. And having been a lecturer and a professor of fine art at Duncan of Jordanstone, he has a track record that I don't have. I don't resent that at all but we both have a different history.
"I also absolutely loved the times I was at home with the children and to me that was very important.
"Some days if I was able to walk with them up in the Lomond hills Ii would think: 'Poor Will, he's having to work and I'm out here'. So it has its compensations."
BBC Radio Scotland Programmes - Stark Talk on Tuesday 22 May at 1405