A question of trust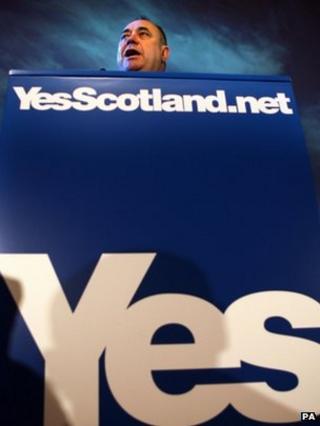 There was poetry, song and sentiment. Hollywood stars. But the razzmatazz at today's independence launch was consciously contained.
No punching the air, not a hint of Braveheart bombast. Why? Because Scots prefer to be heard, not hectored.
No Flower of Scotland, either. Instead, a gentle rendition of Caledonia by the song's composer Dougie Maclean, accompanied by Lou Hickey - and, from the audience, by a near tearful Alex Salmond.
It was left to Liz Lochhead, Scotland's Makar, to recall from one of her finest plays that the Scots national pastime is frequently "nostalgia".
But for all the emotion on display.....
Dennis Canavan disavowing Westminster
Tommy Brennan endorsing independence
and Brian Cox winning a standing ovation for his own journey of self-discovery
This was no maudlin wallow in history, remote or recent, real or imagined.
There was a very precise argument at the core of this cross-party, multi-faceted launch.
As voiced by Alex Salmond, that argument deliberately mirrors the approach which brought success for the SNP in last year's Scottish Parliamentary elections.
Then and in 2007, the SNP deftly placed themselves firmly on Scotland's side by arguing that, when it came to Scottish issues, they were the only politicians who did not have to look over their shoulders towards Westminster.
They were advocating Scottish interests first, second and last. Now, they want to adapt that argument to the independence campaign.
This is not, you will notice, fundamentally about policy - but about trust. In 2007 and 2011, the SNP asked people to trust that the Nationalists would always respond to emerging circumstances in the interests of Scotland.
Now, they and their colleagues in the broader campaign are asking the voters to trust that independence provides the best method for tailoring governance to the desires and wishes of Scotland, for taking the right decisions, however those are ultimately framed.
That is to say that the people best placed to determine the future of Scotland are the people who live there. Simplistic, perhaps, but potent. At the very least, it gets independence campaigners over the doorstep to make their pitch to the sceptical voters who will decide the outcome.
Then, they can try to explain what independence might mean for individual families - and to counter their concerns.
Alex Salmond regards the merit of Scottish self-determination as self-evident. Unionist politicians will not contest that. They agree that this is Scotland's choice.
But they argue that Scots will also consider that their economic interests are intertwined with those of the wider UK. In essence, at this stage, it is a question of mindset.
Claim of Right
Primarily Scottish - or predominantly UK. The detailed arguments can and will follow.
That is not to say that subsequent and future policies do not matter.
The Nationalists, of course, know that they have to set out a detailed prospectus as to what an independent Scotland might look like - the monarchy, the currency, tax policy, international relations, defence.
But today was not about that. Indeed, as I disclosed earlier this week, the Greens are part of the wider campaign - Patrick Harvie stood alongside Alex Salmond today - while disputing key SNP policies such as on taxation.
More, several of the eloquent voices heard from the platform and on the screen today - Brian Cox, Colin Fox, Dennis Canavan, Patrick Harvie - would tend to default to a political position to the left of that commonly adapted by the SNP leadership.
Again, such was not the pre-occupation of today's launch. That was to state the "self-evident truth" of self-determination.
To echo, quite deliberately, the Claim of Right from the Scottish Constitutional Convention which led to devolution and the much earlier Covenant.
From there, the independence campaigners hope to build. At that point, the Unionist campaigners hope to construct a roadblock.