Seaside and Blue Flag awards for Scottish beaches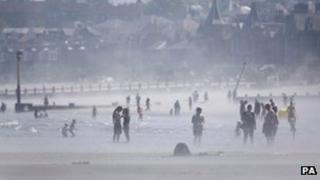 More than 60 Scottish beaches have been granted official recognition for high standards of cleanliness, safety, and water quality.
Keep Scotland Beautiful (KSB) has given "seaside award" status to a total of 61 beaches.
Eight will also now be able to fly the internationally-acclaimed Blue Flag.
The environment charity said over the past 12 years the number of beaches achieving seaside awards has more than quadrupled.
The awards are given annually, with beaches from Aberdeenshire to the Borders, and from the Highlands to North Ayrshire, among those featured on the 2012 list.
Portobello beach in Edinburgh and Dunbar East beach in East Lothian are completely new entries.
Six of the sites which have been awarded blue flag status - for which beaches must pass 32 environmental criteria - are in Fife, with Kinghorn beach receiving recognition for the first time.
The other two blue flag winners are in Dundee and Coldingham in the Scottish borders.
Derek Robertson, chief executive of KSB, said: "With an increasing number of people choosing to take their holidays at home in Scotland, there has never been a better time to enjoy your local beach.
"The Seaside & Blue Flag Awards highlight that these beaches are an important resource to the local economy and that they are your beaches to enjoy.
He added: "Over the last 12 years, the number of Seaside Awards in Scotland has more than quadrupled.
"There were just 13 in 2000, so I would like to pay tribute to all the hard work that goes in to achieving and keeping these awards by local authorities and communities, and I would encourage everyone, particularly in this economic climate, to make use of the fantastic beaches we have around the Scottish coast this summer."
The KSB website has an interactive map showing all the award winning beaches with an option for people to rate their favourites.