Scottish air ambulance contract awarded to Gama Aviation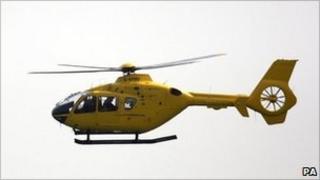 A £120m contract has been awarded for the construction of a new model of air ambulance helicopters.
The EC 145T2 aircraft will replace the EC 135 models in Inverness and Glasgow, which were briefly suspended for safety checks earlier this year.
King Air 200c planes in Aberdeen and Glasgow will also be upgraded as part of the contract, which was awarded to Gama Aviation and begins in April.
The new models will cut flight times and reduce the need to refuel.
They will also have more space to accommodate medics and the relatives of patients.
Flights of 22 Eurocopter EC 135 helicopters, including 16 air ambulances, were briefly suspended as a precaution by operator Bond Air Services after a fault was found in a Scottish air ambulance in April.
A crack was discovered on the main rotor hub, prompting a safety warning by the European Aviation Safety Agency.
'Resilient system'
The two new EC 145T2 aircraft will enter service in 2014 as part of the seven-year contract awarded to Gama by the Scottish government.
Health Secretary Nicola Sturgeon said: "The Scottish Ambulance Service air ambulance is the only publicly funded air ambulance service in the UK and this £120m contract will deliver a world-class, future-proof service that has been specifically designed to benefit patients throughout Scotland.
"It is important that patients can rely on the provision of a safe, responsive and high-quality air ambulance service and these new larger and faster helicopters can do just that.
"We all recognise the remote and rural nature of Scotland, and the importance of providing communities with a resilient healthcare system. The air ambulance service is critical to how we do that."
Support will continue in Shetland by the medically equipped Super Puma search and rescue helicopter, with contingency support from military and coastguard aircraft.