Does Europe have a word for entrepreneur?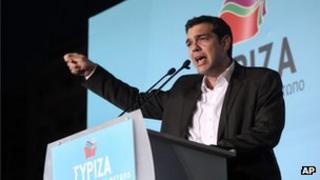 What's going to happen on Monday? Markets are nervy. Central banks are braced.
It's a familiar sensation. We've got used to brinkmanship in the eurozone crisis, wondering if we'll get through the next few days without economic calamity.
For nearly 30 months since the bond market first focussed its attention on the risk of Greek default, it's been rare that the time horizon has stretched much more than a few weeks ahead, amid repeated bouts of apocalyptic warnings of collapse.
This one - this Greek election weekend - looks more like the vital crunch point than ever. That's partly because it represents a sort of showdown between the markets and the voters. It's also because there's only so much suspense this Greek drama can take.
Surely it has to be resolved one day? Or is this an epic struggle between democracy and capitalism, between competing visions of Europe, that becomes a celebration of one of the European Union's most impressive attributes - the capacity to muddle through, somehow.
I write this while reflecting on a visit to Brussels recently, courtesy of the European Journalism Centre, where they wished me to learn more about the European Commission's proposals to develop a new industrial policy. This is in the hope of finding that growth spark that so eludes much of the continent.
It starts with the assumption, common in Brussels, that more Europe is the answer. So how can it be fitted to the question? Under the title "Mission Growth", nothing less than a third industrial revolution is being envisaged, starting with a new communication, or set of policy proposals, from the commission due for publication this autumn.
Continentalisation
If there's one thing I took from the conference, it's the sense that fellow journalists from across the continent are much more sceptical about the claims for European integration. Scepticism isn't solely British any more. And, after all those months of crisis, that shouldn't be any surprise.
The commission's thinking, so far, borrows heavily from US policy guru Jeremy Rifkin. He flatters the European dreamers with having seen the opportunity of "continentalisation". It's not a pretty word, relating to the networking of economies, not least in open trade, energy and telecoms. And, in that, says Rifkin, Europe is impressively on the case.
He reckons each industrial revolution so far has allied a new form of energy with a new form of communication. Steam with railways. Electricity with phones and the internal combustion engine. Cue renewable energy and an e-cabled Europe.
With that, five pillars of an industrial policy include not only renewable energy, but: better ways of storing it (the least well advanced of the five, but with Germans in the lead); a revolution in construction that makes each building into its own energy plant (German domestic installations of solar have recently been at an astonishing pace); smart grid technology that lets those buildings trade energy efficiently; and new approaches to low-carbon transport and logistics.
The latter reflects not only green cars and trucks but also the way 3D printing can make manufacturing much more local and responsive to demand - something like just-in-time delivery but down a broadband cable.
Around this vision, the commission has in mind a strategy that will highlight construction, the car and truck industry and shipbuilding.
And, alongside that, it wants to target the Europe-wide deficit in entrepreneurial ambition. Some 40% of young Europeans dream of their own start-up, we're told, compared with 70% in China and more than 50% in the US. This brings to mind the observation attributed to George W Bush that the problem with the French is that they lack a word for "entrepreneur".
There's also a desire to find innovative approaches to financing business, particularly small and medium-sized ones, and not least to get over the problem that some 87% of them don't envisage exporting outside the EU.
Messy negotiation
You might well ask why it's taken until now for Europe to find, or at least to update, a strategy for growth. Others will ask how it can happen in a downturn and with such austerity.
But the message from Brussels is that, if the euro and internal market are to be preserved, they will need "exceptional measures" in the short term - and a longer-term approach to getting growth out of austerity.
The bits of it that are best delivered across 27 and more nation states are open to debate, not least as this plan could have something to do with the looming talks at the Council of Ministers on the next seven-year budget round. There's another messy negotiation to be had there.
Centralised planning is easily derided. Surely innovation is sparked locally, rather than by continent-wide policy-planning. But then, there is surely a role for open borders, physical networks across Europe from transport to telecoms and for standardisation of products so that technologies can work together.
Industry commissioner Antonio Tajani hotly denied his mindset is to use this policy agenda to centralise further.
And I asked him why Europe seems so poor at producing the global technology brands, such as Microsoft, Google and Facebook (a question posed not long before Finland's Nokia had its bonds reduced to junk status).
The commissioner's answer showed he hadn't understood the question. And, with a pitiful one functioning language to his three, I wouldn't have understood his native Italian.
Mutual incomprehension was a sort of eloquent answer in itself.