Most Scottish schools hitting PE targets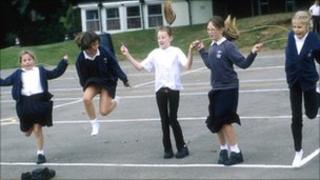 The number of primary school children getting at least two hours a week of PE has risen sharply, new figures show.
The Scottish government's Healthy Living survey suggests that 84% of primary schools are hitting the target.
That compares to just 3% in 2004/5, when physical education information was last included in the survey.
It said 92% of S1 to S4 pupils in secondary schools were getting two periods of gym a week. That was a 46% increase on eight years ago.
The Scottish Government's wants every primary school pupil to receive at least two hours per week of PE by 2014.
It also wants secondary pupils to have two periods - 100 minutes - per week.
Four local authority areas met the targets in 100% of their schools - East Ayrshire, East Renfrewshire, South Ayrshire and West Dunbartonshire.
Sports minister Shona Robison said: "We want to increase opportunities for children to get involved in sport and physical activity which in turn improves health, educational attainment and life chances.
"PE in school is a crucial long-term investment, as habits formed in childhood and adolescence continue throughout adulthood and pupils who take part in PE can better understand the benefits of a healthy, active lifestyle.
"This will also contribute to encouraging children to have at least 60 minutes activity a day."
A spokesperson for local authority group Cosla said: "The key physical education statistics demonstrate the commitment of local government to improving the health and fitness of young people in Scotland.
"While the PE target remains only a part of local government's overall commitment to health and fitness these statistics are good news."
Scottish Tory MSP Liz Smith said: "Parents and pupils have been waiting a long time for this pledge to be delivered and it is now incumbent on the SNP to make sure all pupils have this opportunity."