Violent crime down by 17% in Scotland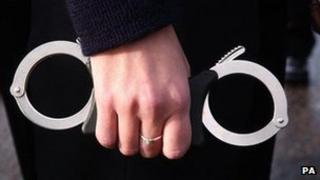 Violent crime in Scotland has fallen by almost a fifth according to the latest figures.
The Scottish government statistics also show a drop in the overall number of crimes and offences recorded by police forces, for the fifth year running.
Sexual offences increased by 10% between 20110-11 and 2011-12, but that rise could in part be due to changes to the way certain crimes are categorised.
Justice Secretary Kenny MacAskill said the crime rate was at a 37-year low.
He said the figures showed that communities are becoming "increasingly safer and stronger".
In 2011-12 Scotland's eight police forces recorded 314,186 crimes - 9,061 fewer crimes than in 2010-11.
The number of non-sexual violent crimes decreased by 17%, to a total of 9,533.
There was also a 10% fall in the number of crimes of handling an offensive weapon.
The clear-up rate for all recorded crimes was 49%, which is the same as in the previous three years.
The violent crime clear-up rate was higher, increasing from 72% to 75%.
Knife crime
Mr MacAskill said there were many pleasing aspects of the latest statistics.
He added: "This is the fifth year in a row where recorded crime has fallen - to a 37-year low - and with police numbers remaining well above our pledge to put 1,000 extra officers on our streets.
"I am particularly pleased to see a 10% reduction in crimes involving handling an offensive weapon, an area where we've seen crimes fall by 44% since 2006/7.
"We have invested heavily in this area, specifically in our efforts to reduce knife crime.
"However, there is no room for complacency. We take the safety of our communities very seriously, and we will continue to support the outstanding work of our police, prosecutors and courts to bring those responsible for crime to justice."
Scotland's senior law officer, the Lord Advocate, Frank Mulholland QC, also welcomed the drop offensive weapon crimes.
He said: "One knife offence is one too many but it is encouraging that crimes of handling an offensive weapon have decreased since 2010-2011.
"The prosecution service is committed to working with the police and others to tackle the scourge of knife crime."