Women footballers and cancer charity team up to raise awareness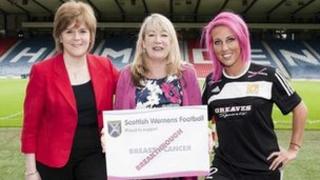 Women footballers have teamed up with a charity to highlight the importance of exercise as a way of cutting the risk of developing breast cancer.
The Scottish Women's Football Association and Breakthrough Breast Cancer will use social networking to promote their message.
The partnership, entitled One Goal, also aims to inform women about the signs and symptoms of breast cancer.
Almost 4,500 women are diagnosed with the disease in Scotland each year.
It is the most common cancer among females and about 1,000 women die annually from the disease.
One Goal will use Twitter to reach players, clubs and volunteers to help them identify breast cancer earlier.
Audrey Birt, the charity's Scotland director, said: "We are really excited about this partnership as it will not only help promote breast awareness to women but also the value of exercise for improving your current physical health and longer term benefits such as reducing your risk of breast cancer."
Maureen McGonigle, executive administrator at Scottish Women's Football, added: "We are using social media as a key platform for this relationship because this is where women's football can create most interest.
"Breakthrough will team up with our clubs and players on Twitter to communicate throughout the season important messages about breast cancer."
Health Secretary Nicola Sturgeon is backing the new partnership and helped kick-off the One Goal campaign.
She said: "We know that the earlier a cancer is diagnosed the greater the chance it can be treated successfully and that more lives can be saved in Scotland through earlier detection and better treatment."