Name change for body running Scottish canal network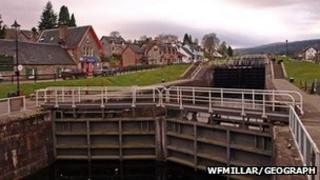 The body which runs canals and waterways in Scotland is to have a name change but it will continue to be publicly owned.
British Waterways in England and Wales is moving out of the public sector to a new charitable trust.
But in Scotland, it will be known as Scottish Canals and Scottish government ministers will be in charge.
It will run the Caledonian, the Crinan, the Forth and Clyde, the Union and the Monkland canals.
In total, the newly named body will also be responsible for 137 miles (220km) of waterways, 17 reservoirs and the navigation rights to four lochs, including Loch Ness.
'Stunning setting'
The Scottish government said Scottish Canals would be expected to work with public, private and third sector organisations to develop the country's canals.
Transport Minister Keith Brown added: "Scotland's canals provide a stunning setting for water based leisure activity, supporting tourism, educational opportunities and the economy.
"These changes allow us to appoint a board much closer to Scotland's canal users and to our purpose of creating a more successful country, with opportunities for all to flourish, through increasing sustainable economic growth."
Jon Hargreaves, chairman of the Scottish Canals Board, said: "We are delighted that Scottish government has announced that we are now officially Scottish Canals, a standalone public corporation.
"We look forward to creating a future which increases the value and public benefit of the canals for those using the waterways, the waterside communities they pass through and for Scotland as a whole."