Former BBC Scotland news man Ken Cargill dies aged 65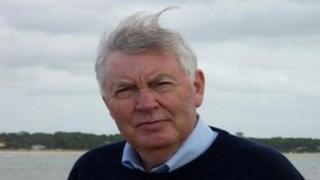 A former head of news at BBC Scotland, Ken Cargill, has died at the age of 65.
The University of Edinburgh graduate joined the BBC in 1972 as a researcher and went on to do reporting, film directing, producing and editing.
Mr Cargill became head of TV news and current affairs in 1988 and later took on responsibility for radio, sport and news online. The journalist left BBC Scotland in 2002.
He became an honorary fellow of the Abertay University in May 2012.
Mr Cargill, who had been ill for a while, was made a member of the university's court more than eight years ago.
BBC Scotland director Ken MacQuarrie said Mr Cargill was a "hugely talented" journalist who led the news team during a period of "huge change and through some major stories of international significance".
He added: "Ken was a big personality who had an incisive mind and a superb understanding of what our audiences wanted from the BBC news team.
"He was also very good at spotting and developing broadcast journalists, many of whom are now household names, on our screen and on our airwaves.
"He dealt with serious issues in a serious way but he also had a wicked sense of humour and could be great fun to be around.
"Journalism is very much the poorer for his passing, but his loss will be felt even more by his many friends and family who knew Ken the Man rather than Ken the Newsman.
"Our thoughts go out to them at this very sad time."
'All time greats'
Former deputy director general of the BBC, Mark Byford, said he was shocked and saddened to hear about the death of the "big man".
He said Mr Cargill had been a "brilliant journalist with an incisive, curious mind".
Mr Byford added: "He was a truly outstanding public servant who raised the bar for high quality broadcast journalism in Scotland. I feel privileged to have worked with him, proud to have learned so much from him and honoured to have been counted as one of his friends.
"He was a great leader who modernised effectively, but always kept true to the values and stood for excellence. Ken Cargill was one of the BBC's all time greats and a diamond in British journalism."