Hospital infections at lowest level since records began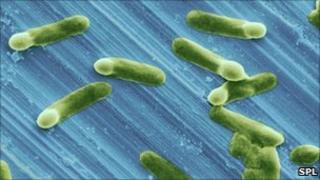 The number of cases of hospital acquired infections in Scotland has fallen to the lowest recorded level.
Health Protection Scotland's figures for the first three months of 2012 showed a fall in the number of cases of Clostridium difficile in over-65s and a drop in cases of MRSA.
The number of C. diff infections dropped to 334, down 6.2% from 356 at the same time last year.
MRSA cases fell from 69 to 48 over the 12-month period.
The figures also showed there were noticeable regional differences in the number of cases reported.
In NHS Highland, there was a "statistically significant" increase in the number of C.diff cases following an outbreak at Raigmore Hospital.
Key priority
Health Secretary Nicola Sturgeon welcomed the figures.
She said: "Tackling healthcare associated infections (HAIs) has long been one of my key priorities and these figures highlight how effective the efforts of NHS staff to drive down infection rates have been, with both MRSA and C. diff cases at their lowest-ever level.
"Over the past three years we have invested over £50m to help reduce HAIs, and these figures are further confirmation that the initiatives we have put in place - coupled with the efforts of health boards and hospital staff and the scrutiny of the Healthcare Environment Inspectorate - are making a difference."
However, she stressed that staff, patients and visitors all had a role to play in maintaining good standards of cleanliness and hand hygiene.