Givin' it up at the Hotel Caledonia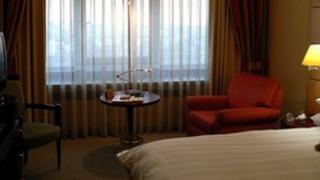 It is a busy time of year for tourism, or it ought to be, during the school summer holidays.
The evidence is that hotels are filling rooms - less successfully in Edinburgh - many of them after a tough-going winter.
In Scotland, the most recent industry figures show they're doing so a bit better than south of the Border , although they also show Edinburgh is having problems.
And according to official government survey data, the number of visitors and the amount of their spend is up, on both the international and domestic fronts.
However, hotels are filling rooms by discounting more than they'd like, while having to pay commissions to booking websites.
And there is also evidence that hoteliers are struggling to make enough money out of customers once they have checked in.
Openly for sale
Hoteliers complain that the add-ons of drinks at the bar, choosing from the a la carte menu and the room service are being cut back.
Some are fed up to find after check-out, that residents have left the empty bottles or cans of drink they had taken to drink in their rooms, rather than buying at the bar.
Others regret that customers who ask for a jug of tapwater with their meal, as they're entitled to do under licensing laws, may be cutting their holiday costs but they're also cutting the hotels' margins.
That pressure on hotel finances is one reason why there's been an unusually large surge in the number of hotels on the market.
According to Willie MacLeod, executive director in Scotland of the British Hospitality Association, most wanting to sell would normally take the earnings from the peak season and put their hotels on the market in autumn.
But in a trawl of the main websites where hotels are being sold, he has found around 300 openly for sale, including guest houses and bed and breakfast businesses, and reckons many more are unofficially for sale. All you have to do is ask.
Skye and the nearby mainland seems to be a particular focus of sales. The larger hotels now on the market include; Broadford Hotel, King's Arms Hotel in Kyleakin, Flodigarry Country House Hotel, Dunollie Hotel in Broadford and Uig Hotel, the Lochalsh Hotel in Kyle of Lochalsh, Plockton Hotel and Morar Hotel near Mallaig.
Higher risk
So more are coming on the market, and many are struggling to find buyers. Few are willing to talk openly about their relations with their banks, but privately, it's clear that the action of at least one bank is forcing hotels onto the market.
Hospitality and leisure appears to them to be seen as being higher risk, say the customers, and therefore some banks simply want to exit, or to increase sharply the pricing of that risk.
According to Willie MacLeod, there are more complex changes under way. He believes banks' relationship managers have shifted from basing their lending on the value of the property towards a gearing to cash flow, business plan, management quality and loan-to-value ratio.
"There's no doubt that banks are over-exposed to the sector, and some see the sector as relatively high risk," he told BBC Radio's Good Morning Scotland programme.
He said they're particularly keen to avoid 'lifestyle businesses', who wish to stay below the VAT threshold or who don't intend to trade with the hotel asset as much as possible.
A spokesman for Clydesdale Bank said it cannot talk about approaches to particular sectors, but that the experience of customers in the hotel business is similar to those in many others, in that banks have had respond to tightened credit because banks have to hold more capital and credit is therefore scarcer.