Scottish crime agency targets more gangs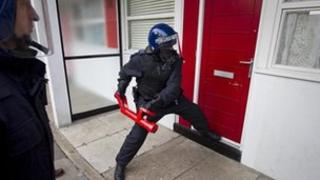 More organised crime gangs have been tackled by the Scottish Crime and Drug Enforcement Agency (SCDEA) than ever before, according to its annual report.
The report said the agency disrupted organised crime groups on 109 occasions - twice as often as last year.
Of these, 42 were classed as "high level", defined as resulting in the most significant impact to criminal activities.
The agency's operations resulted in 194 people being arrested.
This included 75 who were said to be among the country's most harmful and dangerous criminals.
SCDEA investigations also resulted in criminals being sentenced to a combined total of 170 years imprisonment.
More than 782kg of illegal drugs were seized, with an estimated street value of £18.45m, along with 328kg of adulterants - the chemicals used to bulk out drugs and maximise profits for dealers.
'Hard cash'
Some £5.2m worth of criminal assets were identified for restraint, with more than £1m of cash seized from criminals.
The agency's director general, Deputy Chief Constable Gordon Meldrum, said its officers had used a range of new tactics in the past year.
Mr Meldrum said: "Drug dealing continues to be the bread and butter business of serious organised crime groups.
"By disrupting the locations and transport routes used by serious organised crime groups we make it tougher for them to ply their illegal trade. By disrupting cash flow we can fracture their supply lines and prevent them from doing deals to purchase further illegal drugs bound for Scotland's shores.
"The increased quantity and purity of drugs seized this year, and the seven figure total of hard cash, demonstrate just how effective that approach has been."
Mr Meldrum said officers had been successful in identifying and targeting professionals with specialist skills, for example accountants, who helped criminals hide their activity and profits.
He added: "By identifying those specialists and disrupting the apparent 'legitimate' business enterprises that are being used to launder criminal proceeds, we damaged nine businesses last year linked to serious organised crime in this way.
"Working with our partners in both the public and private sector to identify vulnerabilities we have made it harder for criminals to operate, whether by forcing them to sell their houses and taking their cars, or by making it difficult for them to obtain business licenses and contracts.
"Intelligence tells us that personal standing is extremely important to criminals. By tarnishing their reputation we can diminish their standing in the criminal community and ultimately make it more difficult for them to operate as their criminal influence is reduced."
Above all, Mr Meldrum said, the agency wanted to ensure it made life as difficult as possible for the crime gangs it targeted, whether taking key members out of operation by sending them to prison, or by forcing them out of the country and abandoning their established criminal network.
"This evolving approach has been underpinned by the SCDEA's ground-breaking work to map serious organised crime groups. With this increased knowledge we have been able to hone our approach to ensure that the tactics we deploy have significant, and most importantly, lasting disruption on criminal networks", he added.
Justice Secretary Kenny MacAskill welcomed the "significant progress" the agency has made in tackling organised crime over the past year.
He said: "What is also clear from today's report is that criminal networks and methods are continually evolving. But it is also clear the SCDEA and other law enforcement partners are recognising and responding to new methods, and are cracking down on those intent on flouting the law."