Scotsman presumed dead after three people swept away on Canadian river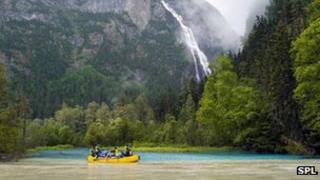 Canadian police are looking for a Dunbartonshire man who is presumed dead, after an incident on a British Columbia river which killed two people.
The trio are thought to have been swept over a waterfall on the Kettle River near Grand Forks on Saturday.
The bodies of a local elderly couple who also went over the 100ft fall in an inflatable dinghy have been recovered.
The hunt is ongoing for the 50-year-old man. A 16-year-old boy, also Scottish, fell into the water but swam to safety.
Ronald Legare, 74, and 71-year-old Jean Legare both drowned when their dinghy capsized.
The couple, from Lake Christina, were thought to be part of a group of 13 who were tubing and rafting when witnesses say three swept over the waterfall in strong currents.
'Family advised'
Tubing is a popular recreational activity in Canada, where an individual rides on top of inflatable tyres on water or snow.
In a statement, the Royal Canadian Mounted Police said: "The RCMP Southeast District helicopter and ground searchers were unable to locate the third individual today, the 50-year-old man was also swept over the Cascade Falls on the Kettle River late Saturday afternoon.
"An extensive air and ground search was completed late Sunday afternoon which yielded no sign of the man.
"Search and Rescue technicians will monitor the area in the coming days in an attempt to locate the man's body.
"The family of the 50-year-old Scottish man have been advised by the RCMP and Grand Forks Victim Services personnel, that the man is presumed to have drowned."
The UK's Foreign Office said it was aware of a British national reported missing on the 29 July and would be offering consular assistance.