Tough stance on metal theft in Scotland unveiled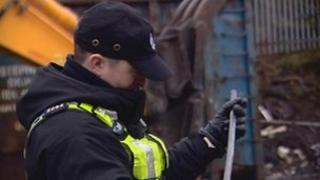 Prosecutors have warned they are going to get tougher on metal thieves in Scotland, to deter criminals.
The new Crown Office policy came in response to an increase in the problem, blamed on a rise in scrap metal value.
Metal theft linked to organised crime is being targeted in particular, and those prosecuted could lose their assets under proceeds of crime laws.
Solicitor General Lesley Thomson said metal theft had a significant impact, adding: "It is not victimless."
"It can affect us all through the desecration of war memorials and buildings of faith or the disruption to travel and telecommunication services.
"I hope that our robust prosecution policy will deter those thieves whose greed can cause harmful economic and emotional consequences for individuals and communities across Scotland."
Metal thieves and unscrupulous dealers will be prosecuted under the common law of theft under the Crown Office crackdown, while they may also find themselves charged with offences like culpable and reckless conduct or malicious mischief.
The Scottish government is currently looking at the licensing structure of scrap dealers.
Community Safety Minister Roseanna Cunningham said: "With tough legislation, regulation and enforcement we can make a difference, and we will continue to work with police, industries affected by metal theft and the majority of reputable metal dealers to stop metal thieves."
In March, a BBC Scotland investigation found metal theft was costing Scottish taxpayers hundreds of thousands of pounds a year.
A survey of all 32 Scottish councils showed the total cost of repairing damage caused by metal thieves across the country had reached some £600,000.
Chief Supt Ellie Bird, from the Association of Chief Police Officers Scotland, said the new measures underlined the joint commitment of police and prosecutors to continue fight the "unacceptable scourge" of metal theft.