Meet the Boccia brothers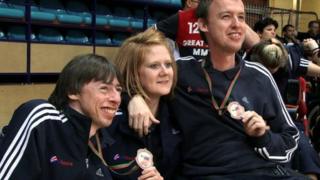 "As soon as he was born they knew there was something wrong with Peter, because he was floppy," says Peter McGuire senior.
"He was a floppy baby. He had some sort of muscle condition but they could not say what it was.
"Stephen was born about a year and 10 months after that. He was a lot stronger than Peter was, but he did have the same type of condition."
The McGuire brothers have muscular dystrophy.
It is an incurable degenerative condition which means Peter, 29, and Stephen, 27, are wheelchair users.
But the brothers, who live in Hamilton, South Lanarkshire, have battled to be part of the squad which is to represent GB at the Paralympics.
Their sport is Boccia (pronounced bot-cha), which is like French boules, only played from a wheelchair.
Each player has six leather balls.
A white target ball, or jack, is thrown and the players then throw one ball each.
The player with the ball furthest from the jack then keeps throwing until he is closest. When he is, the other player throws.
Stephen, who took up Boccia seven years ago, is a fierce competitor who will do everything possible to unsettle his opponents.
He says he was always robust and he and his brother were not "cotton-wool kids".
Stephen says: "I had a great childhood. We were always out playing and there was nothing I didn't do."
His brother Peter says: "Always if we went out, my dad would say 'you are walking'.
"It was tough love. 'Keep your legs moving, you are walking'."
Peter senior says he pushed his sons hard when they were children.
He says: "It is good to push people. You push yourself for your best."
In fact, although the pair say they knew they were different, they went to a mainstream school until they were 11 and 12.
They say before that they had hardly ever met a disabled child.
The brothers, whose mother died when Stephen was 10, do not dwell on their condition.
Stephen says: "You don't think about the future much.
"You know it is a deteriorating condition but since playing Boccia it has kind of stabilised.
"It has been seven years, which is phenomenal. I think we are really benefiting from the sport."
Because Boccia is a disability sport, each athlete is examined and assigned a classification to ensure fairness.
In 2009, Stephen's disability was called into question.
His coach Jim Thomson says: "The problem was Stephen looked stronger than he actually was at the European championships and the classifiers pulled him in and decided he was physically too able to play."
Stephen says: "When you start winning they take notice and they thought 'there is something not right there'.
"I got ECGs and video-ed. I was strip-searched looking for muscle tone. There is nothing. They can't find anything."
He said the next year was tough and he was afraid to train in case they thought he was too able.
His coach says: "It is always something which is hanging over his head.
"It really now should not be an issue because his muscle strength has deteriorated in the past three years to the point where we are fairly comfortable that he should get through classification if he is called for classification in London."
At a recent international tournament in Portugal, Stephen was in a lot of pain in his hip and taking a lot of painkillers.
Thomson says: "He was at a point where we were seriously considering whether he would play the next game because of the amount of pain he was in."
However, it did not stop him doing everything he could to "psyche out" his opponents.
Funny noises
Stephen won the Scottish open four years in a row, however, in 2009 his brother won it for the first time.
A couple of days later Peter had a stroke.
He says: "I woke up and I felt kind of funny.
"My arm felt really heavy. It was not moving right. I was trying to call Stephen but he says I was just making funny noises."
Stephen says of his brother: "He fights through Boccia and he fights through life. I sort of look up to him a bit in that way. I wish I had his sort of courage. Not courage, fight."
As well as playing as individuals, the brothers also play as a pair and are ranked second in the world.
Boccia will be played in the ExCel stadium in London, where judo and table tennis were held during the Olympics.
The Paralympics begin on 29 August and run until 9 September.
Boccia Brothers will be shown on BBC Two Scotland on Thursday 23 August at 22:00