Scottish ambulance emergency response times improve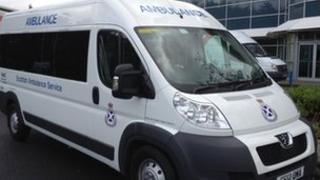 The Scottish Ambulance Service's average emergency response time improved in the last year, according to new figures.
The service dealt with about 630,000 emergency incidents between 1 April 2011 and 31 March 2012.
Ambulances took an average of six minutes and 42 seconds to respond - 12 seconds quicker than the previous year.
The figures emerged at the service's annual review, where Scotland's first electric ambulance was unveiled.
Speaking at the review in Glasgow, Health Secretary Nicola Sturgeon said: "The ambulance service is performing very well.
"It's a very, very important service that responds to calls from people who are often in life-threatening situations, so it's vital that it always looks at how it can improve.
"It's also a faster service, with response times improving dramatically in recent years, and it's a much more sophisticated service than it used to be."
Carbon commitment
The country's first electric ambulance was revealed before the publication of the review.
The vehicle has a large plug socket under the bonnet, rather than a diesel engine, and can travel about 100 miles on a five-hour charge. It has a top speed of 65mph.
The vehicle will be trialled by the patient transport service to take people with mobility needs to and from medical appointments.
Scottish Ambulance Service chief executive Pauline Howie said: "The electric ambulance fits into our fleet of 500 vehicles that treat and transport patients across the country.
"It has zero emissions, which is really important in terms of our carbon commitments to the Scottish government, and it has the potential to cut down fuel costs, as our vehicles travel around 10 million miles every year."