Naked Prince Harry images published on UK website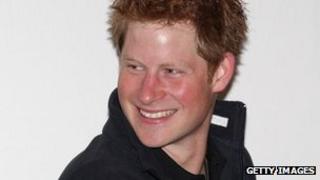 A Scottish media and marketing website has reproduced images of a naked Prince Harry in his Las Vegas hotel room.
The Drum had claimed to be the first official UK publication to show the pictures which are widely accessible on blogs and other internet sites.
The online publication's move has now been followed by The Sun newspaper.
The tabloid said it had decided to print the pictures in its Friday edition because it thought its readers had the right to see them.
Until The Sun's decision to publish, no British newspapers had carried the pictures.
Prince Harry, 27, is believed to be back in the UK after the pictures of him and a young woman naked in the hotel room appeared on US gossip website TMZ.
The photos are believed to have been taken on a camera phone last Friday when the prince was on a private weekend break with friends.
St James's Palace confirmed the prince was in the photos and that it contacted the Press Complaints Commission on Wednesday because it had concerns about his privacy being intruded upon, in breach of the editors' code of practice.
In an opinion piece, The Drum's US editor Noel Young said "decisions not to publish, despite the self-evident news value, are always bad decisions".