Couple killed in A9 Harley Davidson trike crash named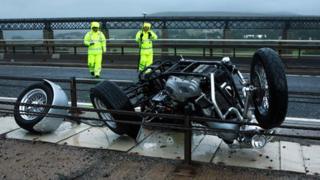 Two people who died after their Harley Davidson tricycle crashed in the Highlands have been named by police.
Robert Macdonald, 54, and Valerie Macdonald, 60, from Inverness, died in the collision on the A9 at Findhorn Bridge at about 17:20 on Saturday.
No other vehicles were involved. Police have appealed for witnesses.
Northern Constabulary want to speak to the occupants of a number of vehicles which stopped at the scene but had left before officers arrived.
Earlier in the day hundreds of Harley Davidson enthusiasts were in Aviemore in the Highlands for the 16th annual Thunder In The Glens event.
It is not known whether the tricycle involved in the crash had come from there.