Lung charity's fears over blue badge crackdown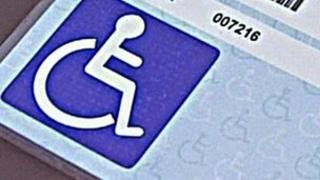 Measures to crack down on drivers who abuse the disabled parking system have stopped people in genuine need from getting blue badges, according to the British Lung Foundation.
It said people with lung disease were being refused disabled parking permits because poorly-trained council staff were deciding they were not disabled.
The head of the British Lung Foundation in Scotland and Northern Ireland, James Cant, said: "We're actually quite worried about the increasing number of cases.
"Very often people with a lung condition look much better on the outside than they actually are on the inside."
Legislation came into force at the start of the year in England and Scotland as part of a crackdown.
Lung disease
New types of disabled badges were introduced which were harder to forge, but the British Lung Foundation said problems were being caused by new discretionary powers which have been given to councils.
Mr Cant said: "We're finding there's a lot of variation by council.
"Many of these decisions are being taken by people who may not have had enough training to understand the full implications of lung disease on somebody's mobility."
Agnes Bruce was diagnosed with Chronic Obstructive Pulmonary Disease (COPD) two years ago.
Last year she applied to Renfrewshire Council and received a blue badge immediately.
When it was time to renew the badge this year, she ran into difficulties.
She said it took six weeks for the council to even send her a form.
After another six weeks, she received a letter saying a "desk assessment" had concluded that she wasn't eligible.
"They've never even seen me," she said.
"They don't know how bad my COPD is, or how long I've had it."
Since losing her blue badge Mrs Bruce has become more housebound, with her husband running most errands and doing the shopping.
Her biggest difficulty is going for hospital appointments. The car park at her nearest hospital in Paisley is on a steep slope.
Medical evidence
"Now I can't park near the door where the disabled bays are," she said.
"If I have to park even half way down, that's like Mount Everest to me.
"I can't make it, or it takes me about an hour. I have to stop and start, stop and start."
The new legislation does not require medical evidence from the applicants GP or consultant, although it is recommended if there's any doubt over a person's ability to walk.
The British Lung Foundation is calling for breathlessness to be given more consideration in the assessment process so that people with "invisible" conditions do not miss out.
Further guidance
A spokesperson for Transport Scotland said: "Local authorities are responsible for administrating the scheme and the final decision is for the local authority to make.
"The Scottish government has no locus to intervene in individual cases. The administration and assessment process is entirely a matter for each local authority."
A spokesman for local authorities body Cosla said most councils asked GPs to carry out a desk-based assessment of blue badge applications.
However, after independent mobility assessments are introduced on Saturday, they will need to use a professional - such as an occupational therapist, independent doctor or physiotherapist - if there is uncertainty about eligibility.
Cosla said councils were waiting for further guidance from the Scottish government.