Call for GPs to improve internet information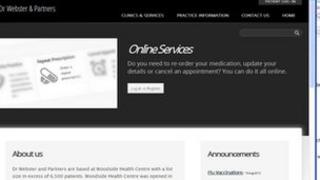 A campaign group has called for GPs in Scotland to improve online information.
Reform Scotland has demanded that all GPs are required to inform patients about their practice online as part of their contract with the NHS.
In a new report the independent think tank found big differences between the availability of basic details about GP practices on the internet.
It is calling for, at least, contact information and an explanation on how to access services.
Reform Scotland is releasing a range of proposals for improving access to GP practices in its report "Patients First: improving access to GP practices", on Monday.
The group said it found that in GP practices in Edinburgh's Community Healthcare Partnership, 21% did not have a working website at all.
Shocking number
Research Director, Alison Payne said: "This is an electronic age, where many people rely on the internet for information.
"Reform Scotland was shocked at the number of GP practices we found to have either no website or only very basic information online.
"Some practices provide detailed information about their catchment area, but the procedures for booking appointments and repeat prescriptions online is sketchy or non-existent."
The report recommends that any organisation which is providing a service to the public and is in receipt of public money, such as GP practices, should have a website providing information.