Reform Scotland attacks GP 'postcode lottery'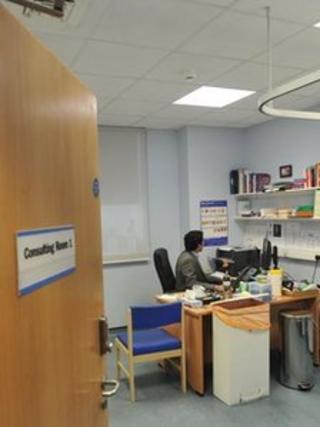 GP services could be improved if family doctors faced more competition for patients, according to a think tank.
Reform Scotland said its research had indicated that where you live would often determine whether you can attend an evening or weekend surgery, or order repeat prescriptions online.
It suggested expanding GP practice catchment areas and ending the ban on private companies opening practices.
The BMA's Alan McDevitt said unhappy patients could already change their GP.
The Reform Scotland report made a series of recommendations it believes would give patients greater choice in picking a practice which provides services suited to them.
The paper said the public currently faced a postcode lottery in accessing their GP.
It points out that most GPs are already private businesses which simply have a contract with the NHS. Yet new surgeries cannot be opened in areas which already have one, and private healthcare companies also cannot enter the market.
Reform Scotland said the government should decide whether or not it believes in competition and either employ all GPs on an NHS salary, or allow true competition by ending the ban on private companies opening surgeries.
The think tank's director Geoff Mawdsley said: "Our research showed there was a wide variation in the way people can access GP services.
"For example whether you can attend a weekend or an evening surgery, whether you can book appointments or order repeat prescriptions online, attend open surgeries - or, in many cases, whether the surgery even has a website.
"I think there are two things we need to look at; one is how do we let patients know what is on offer, and secondly we need to give them the choice. We need to widen that choice which is why we've said we need to enlargen catchment areas, which in an area like Edinburgh could lead to patients having a choice between 10 or 20 GP practices, as opposed to possibly one they have at present."
He added: "It is the lottery which is the problem, that you have no control over the services you receive. GPs are private contractors to the NHS, we should be able to choose more widely from these different practices that are on offer.
"We had to put in Freedom of Information (FOI) requests just to clarify the different catchment areas for different GP practices in Edinburgh and the Scottish Borders - the two areas we looked at. This information should be much more widely available through health boards."
However, doctors' leaders said they disagreed strongly with the recommendations.
Dr Alan McDevitt, chairman of the BMA's Scottish GP committee, said: "Practices around Scotland are continually trying to change what they do to improve access for patients. There's no one ideal answer for access, because there are only so many hours in the day.
"Well over half the practices in Scotland do provide extended hours. So that has increased in recent years.
"People choose their GP for many more complex things than just the time in which they can get an appointment. A study in 2008 showed that patients thought it was twice as important that the GP was interested in your ideas, your social and emotional issues and being involved in decisions than in getting a quicker appointment."
'Small and agile'
He said most patients can easily register with another practice if they are unhappy with the service they receive and said practicalities may make it difficult to increase catchment areas.
"The practical geography limits practice sizes, particularly now in urban areas with heavy traffic, if you go away from the practice on a home visit, that means they're not available to other patients during that time," he said.
"We could widen the catchment area further but we would not be able to have a home visit service. They are actually trialling this in England and I have to say it's thrown up all sorts of enormous practical problems."
In response to the call to allow private companies to run GP practices, Dr McDevitt said: "This report seems to think that the independent contractor status of GPs is the same as services that could be provided by large multinational companies like Virgin Healthcare or Atos. They couldn't be more wrong.
"The independent contractor status does mean that GPs are not directly employed by the NHS, but it does also mean that they are small and agile and can adapt to immediate demands such as the provision of care during the swine flu pandemic."
The Tory health spokesman, Jackson Carlaw said: "These recommendations to extend patient choice are welcome and, while some may be controversial, they deserve to be discussed in the context of improving the service available."
A Scottish government spokeswoman said: "While Local NHS boards are responsible for decisions on these areas, we believe the proposals are interesting and we would be keen to consider and discuss further as part of our efforts to improve access."