Scottish figures show drop in house fires but rise in deaths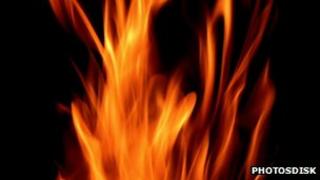 The number of house fires in Scotland has dropped to its lowest level in a decade, although there has been a 10% rise in deaths, new figures have shown.
Provisional figures revealed that 57 people died in fires in 2011-12, compared with 52 in 2010-11.
There were 6,149 house fires, the lowest figure since 2002. There was also a big drop in overall fires, from 38,970 in 2010-11 to 32,204 this year.
In total, 45% of fatal house fires were caused by matches and smoker materials.
Cooking appliances were responsible for 58% of accidental house fires, which the latest statistics showed had left 978 people injured in 2010-11.
In line with the previous year's figures, drink or drugs were suspected to be a factor in 17% of accidental house fires.
In nearly 50% of house fires in 2010-11 there was either no smoke alarm, or the smoke alarm did not work.
Roseanna Cunningham, community safety minister, said: "It is thanks to the work of fire and rescue services - which I have seen fantastic examples of in schools, workplaces and communities - that house fires are continuing to decrease across Scotland and lives are being saved.
"It is a tragedy however that lives continue to be lost to fire every year. Every death is devastating and underlines that we all need to be on our guard against the risks.
"Once again, alcohol and/or drugs were suspected to have been a factor in at least one in six accidental house fires.
"Although other key figures in this publication indicate an improving awareness of the danger of fire in our homes, this underlines that a link remains between alcohol, drug use and fire.
"The most important message we can give is not to be complacent and always be on your guard. We also urge you to get a smoke alarm and check it regularly to ensure it is in working order."
Scottish Conservative community safety spokesman, David McLetchie, said: "The news that house fires in Scotland are at their lowest in a decade is a testament to the hard work of officers in raising awareness of fire prevention in Scotland's communities.
"However, it's of great concern that a greater percentage of fires in people's homes are involving alcohol or drugs.
"Equally worrying is that fatality and casualty rates in Scotland remain considerably higher than the rest of the UK."
Scotland had 10 fatal fire deaths per million population in 2010-11, compared to 6.3 in England and 7 in Wales. The figure north of the border is now 10.8, but the English and Welsh statistics are not available for comparison.