Growing tech firms beyond the nursery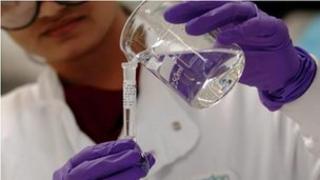 There's no shortage of bright ideas in Scotland. For its size, its technological know-how is world-leading.
And the start of the week brought good news on four fronts.
Cyclacel, which was spun out by Dundee University and led by Professor Sir David Lane, reported strong results from trialling a cancer drug, Sapacitabine, that disrupts DNA and stops cells reproducing.
It found a near doubling of the expected survival period of 63 elderly patients with a blood-related condition.
That raised its stock price by nearly a third in one day. It's up from $3 last June to $7.17 this week.
Smart devices
In Edinburgh, Wolfson Microelectronics, designing tiny audio devices for smart phones, sought to calm anticipation of big orders from at least one of the five manufacturers with which it's in development talks.
In Fife, Optos raised market expectations of its performance in selling retinal scanning devices, aimed at spotting high blood pressure or some cancers.
It's a big company, with revenue of £118m in the first nine months of the year.
And in Clackmannanshire, Omega Diagnostics announced a big deal for Indian distribution of its allergy testing kits.
Venture scouts
That was just one morning of market announcements. But getting such technology firms as far as the stock market is a struggle, at which most firms fail.
The best option for shareholders and management is often to sell up, though that's not likely to be the best option for the economy.
And while anyone can talk of home-growing the next Google or Apple, there's one big reason why it's very hard to make it happen, and that's the absence of venture capital.
Scotland does well at the first round of investment from its angel investor community. But when they want to exit and move on to the next investment, firms look around for second and third stage investment, and there's a big gap in the Scottish finance market.
Indeed, the venture capital market was changing even before the financial crunch, as returns were not good, and it became increasingly short-term.
Scotland has some venture capital expertise, including Scottish Equity Partners and another Clyde Blowers fund set up by Jim McColl. But there's not much of it around, and their job is primarily to look for good investment opportunities rather than to look in Scotland.
One answer, of course, is to help tech firms get out of Scotland to where the finance is, and once there, to help them pitch for it.
Cyclacel opted for the extreme version of that, putting its headquarters into New Jersey, and listing on the New York NASDAQ exchange.
Pot plants
Reaching out to the venture funding market is one of the answers in a new report drawn up by an expert panel for the Royal Society of Edinburgh.
They compare the problem to horticulture: Scotland is very good at growing tech companies from seedling to pot plant for early sale.
But the conditions aren't right for growing on to bushes, let alone trees.
So while Scots technology entrepreneurs need to seek out risk capital where it can be found, the other answer is to tap investment funding closer to home that's not currently being exposed to much risk.
It doesn't quite say that it should be the patriotic duty of public sector pension funds to back Scottish technology, but the report heads in that direction.
There are some public funds to partner with such an approach, now drawn together into the Scottish Investment Bank. In 2010-11, it sunk £23m of investment alongside £54m of private funds.
The RSE panel, led by long-time leading angel Ian Ritchie, is also saying commercial banks should be introduced to the tech sector opportunities with a bit of match-making.
And there could be retailing of equity stakes - that is, aimed at the small-scale investor wanting to take a punt on a small-scale company with a big idea.
But do Scottish individual investors have an appetite for that? Would you?
You can comment or follow Douglas Fraser on Twitter: @BBCDouglsFraser