Speed limits may rise on 23 Scottish roads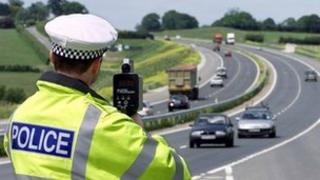 Speed limits could rise on some Scottish roads, following a government review.
Transport Scotland has recommended increases on 23 sections of road and decreases on 44 throughout Scotland.
The agency said the rises would not be "promoted" until police examined how well the lower limits were working.
Former government strategy minister Bruce Crawford announced on 1 July that the Scottish government had "no current plans to increase speed limits".
Transport Scotland said it would "promote decreases on the earmarked roads straight away".
The agency said it commissioned the review to ensure that speed limits were consistent, understood by drivers and appropriate for the environment and road use.
A spokesman said: "In some areas where an increase has been recommended Transport Scotland is already working with communities and the police to positively influence driver speeds towards compliance with the current limit.
"These measures will be given a period of time to assess their effectiveness and no speed limit increases will be implemented until these options have been fully explored."