HIV blood products inquiry to view new evidence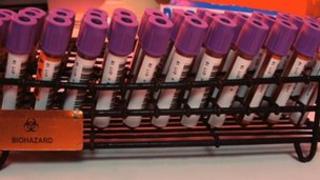 The judge chairing the investigation into contaminated NHS blood products in the 1980s will take further written evidence at his inquiry.
Lord Penrose refused an application from the Haemophilia Society to reopen the oral hearings stage to call expert witnesses on the topic of statistics.
However, he inquiry will now take further written evidence from witnesses named at the procedural hearing.
Hundreds of patients were infected before screening was introduced.
The Penrose Inquiry is the Scottish public inquiry into Hepatitis C/HIV acquired infection from NHS treatment in Scotland with blood and blood-related products.
It is examining whether enough was done to protect patients at staff at the time.
Lord Penrose had considered a written application from Thompsons Solicitors, who represent the patients, relatives and the Haemophilia Society during a procedural hearing on 29 October 2012 which was open to the public.
The application requested the reopening of the oral hearings stage of the inquiry to call or recall five expert witnesses, but Lord Penrose has now published his written decision refusing the request.
Thompsons Solicitors partner Patrick McGuire expressed disappointment at Lord Penrose's refusal to hear additional oral evidence and questioned the purpose of the inquiry.
"This decision will serve as a terrible body blow to the many victims, campaigners and legal representatives who are seeking answers and transparency around this devastating scandal," said Mr McGuire.
"The inquiry can't possibly fulfil its remit without giving a definitive figure in regards to numbers infected and that is what the additional oral evidence on statistics would have examined.
"To conclude without this detail could be viewed by some as casting doubt over the entire process."
Lord Penrose is chairing the probe into how Eileen O'Hara and Rev David Black contracted the virus while in NHS care.
The oral hearings began in March 2011 and concluded in March 2012 and were held to examine the topics identified for further investigation in Lord Penrose's Preliminary Report, which was published in September 2010.
Over a total of 89 days of hearings, the inquiry heard from 60 witnesses, including during a number of closed sessions where patients and relatives gave evidence to the inquiry anonymously.
The final report will be published in 2013.