'Unseen costs' of Scottish court closure plans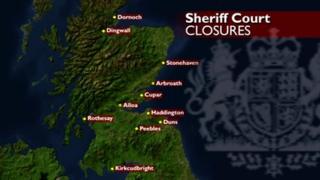 Campaigners against the closure of 11 sheriff courts are warning that there could be many unseen costs to the proposals.
A consultation period into the restructuring of the courts system ends on Friday.
The Scottish Courts Service wants to reduce the number of sheriff courts in an effort to save money.
Opponents of the move said vulnerable people would suffer and more court and police time would be wasted.
Buildings in Alloa, Arbroath, Cupar, Dingwall, Dornoch, Duns, Haddington, Kirkcudbright, Peebles, Rothesay and Stonehaven have been earmarked for closure.
The Scottish Court Service said this was in light of a 20% reduction in its budget and imminent changes to the justice system.
But Angela Craig, a solicitor who works in Haddington, East Lothian, said any savings may be short term because the closures will cause different problems when people have to travel further afield.
She said: "There'll be a lot of incidents where people have been cited to attend court and they may not be able to afford the additional travelling costs of getting to court.
"As a consequences there'll be non-appearance warrants which will have an impact on the police, and obviously cases will have to be adjourned because of that, so it'll result in delays.''
Status quo
There is also concern for vulnerable people who have to get to court, according to Bob Bell who works with parents who have addictions at the charity ADAPT in East Lothian.
Mr Bell said: "The clients with mental health problems would find it hard to get into court in terms of finance, and also going into a big place.
"They may choose to have someone like myself going in to support them, however it does take time and resources for the service user and a support worker like myself."
The Scottish Court Service said the consultation was a chance to hear people's concerns to try to shape proposals for the future, but the status quo was not an option.
The interim chief executive of the SCS, Eric McQueen, added: "For the vast majority of sheriff and JP courts we are looking at moving business to courts that are within 20 miles, so we think it will still remain accessible.
"We believe we've got capacity within those courts to maintain business performance and delivery as we currently do and, if anything, what we hope we can do through time is to start to improve the actual services we deliver."
The consultation into the future of the courts end on 21 December.