Sikh community leader Hans Singh dies aged 87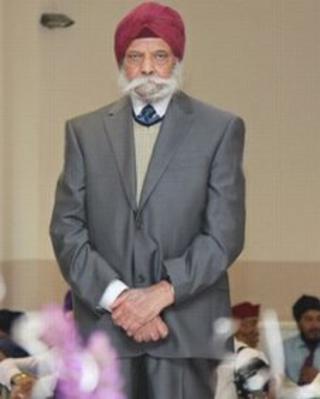 Scottish Sikh community leader Hans Singh has died at the age of 87.
Mr Singh, from Glasgow, was a major force behind the opening of the country's first Sikh temple.
He also successfully campaigned for Sikhs to be exempt from having to wear motorcycle helmets while they were wearing a turban.
Mr Singh, who is survived by his wife Parsin Kaur and three of their four children, died peacefully on Christmas Day.
A mathematics graduate from the Punjab University Lahore, he and his wife settled in Glasgow in 1948 after emigrating from Armritsar in India.
He was a prominent figure within the Sikh community, and was secretary of the Guru Granth Sahib Gurdwara in Nithsdale Road for 15 years.
During that time Mr Singh campaigned on issues including the right to raise the Sikh flag, the Nishan Sahib, outside temples.
In 1962, he represented Glasgow Sikhs at a meeting with Indian Prime Minister Nehru during his visit to Scotland.
In the 1960s and 70s, he was involved in the campaign against a ban on wearing turbans at work and while riding motorbikes.
As a result, legislation was introduced which means that Sikhs who wear turbans do not need to wear crash helmets when they ride motorbikes or scooters.
His son Ranbir said his father was "much loved" had been "very proud" to serve his community.