HMV administration a 'major blow for Scottish music scene'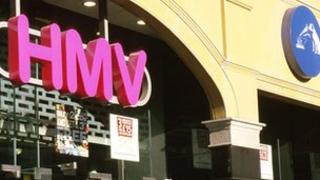 Retailer HMV's move into administration has been dubbed a major blow for Scottish musicians and independent record labels by industry insiders.
It coincided with the news that independent Aberdeen store OneUp plans to close on 31 January.
Stuart Braithwaite, guitarist with indie rockers Mogwai, said of HMV on Twitter: "51% of all our last album's sales were sold there.
"Selling records when there are no record shops is tricky. Very worrying."
HMV, the last major nationwide seller of music on the UK high streets, employs 4,350 people in the UK.
Of the 239 stores, 21 are in Scotland - three of them under the Fopp brand, the one-time Scottish independent bought over by HMV after running into financial problems in 2007.
Months to survive
Virgin Megastore, Tower, Zavvi and Our Price have already disappeared from the high street in conjunction with the rise of illegal downloads and legal internet sales through the likes of Amazon, Play.com and iTunes.
But Braithwaite argues that this simply made HMV, which had in recent years reduced its stock of CDs in favour of DVDs, even more important to bands such as his own - and their record label.
"They've stocked all of the Rock Action releases and sold more of the last Mogwai record than everywhere else," he said.
"With all of HMV's high street rivals gone, they should have cleaned up. People just don't want to pay for music alas.
"The bands and labels who don't get stocked in supermarkets will be most affected if HMV close.
"A lot of people still buy physical CDs and that is the only place you can buy them in most towns. It'll be a big miss."
The HMV announcement comes as independent record shops in Edinburgh and Aberdeen decided on different paths following several months of uncertainty about their own futures.
OneUp, established in 1979, said it would be closing despite a Facebook campaign attracting more than 4,000 supporters since owners gave themselves three months to survive in October.
"It is with deep regret that we have to announce a closing down sale," the shop announced.
"We will continue to trade till January 31st and will keep you updated."
Edinburgh's Avalanche Records had also warned in November that it might close in January, partly blaming "incredibly favourable supplier terms from major music and DVD companies" that were helping HMV to continue operating.
However, owner Kevin Buckle has been heartened by the support from his shop's customers and revealed on Avalanche's website that he would wait to see what would happen following the demise he had been predicting for HMV before announcing a change of direction for his Grassmarket premises.
He said: "People want HMV to survive but want some of their business and it's unfair when they are selling CDs for £3 that I have to pay £3.30 plus VAT for.
"In the short-term, we only need a tiny amount of their business to make a big difference.
"But the general consensus is that those who shop in stores are those who do not shop online."
Avalanche had experienced an upturn in business during the festive period as HMV and Fopp ran out of money - and stock - but BBC Radio Scotland DJ Vic Galloway was sceptical about a possible boost for smaller retailers following what he regarded as a "real blow to retail and the music scene in general".
"About 60% of sales are physical and I think 30% of that goes through HMV," he told BBC Radio Scotland's Good Morning Scotland programme.
"There's talk that perhaps the independent sector will benefit from this.
Management buy-out
"I wouldn't like to say a categorical 'yes'. I'm not sure that's going to happen.
"I think the people who are really going to lose out here are the independent labels and the real music lovers.
"I think the casual music buyer will go online - Amazon/Play.com - or they will buy their music from the supermarkets.
"So I don't think that the independent stores will necessarily benefit from this."
Chris Cook, business editor of music industry bulletin CMU Daily, thought that a slimmer HMV might emerge.
"Certainly, there isn't a 240-store business out there and I suspect that, if we do get an HMV out of this administration that has a few year's future, it will be substantially smaller than the company that is existing today," he said.
"In Scotland, HMV bought the Fopp brand, so there were the Fopp record stores in Glasgow and Edinburgh, which have always been part of the Scottish independent retail, and that will also likely go."
However, Bruce Findlay, who established an independent chain of record shops in Scotland in the 1970s, sent out words of encouragement to HMV employees considering their future.
"I hope some HMV shops (Fopp?) think about a management 'buy-out'," the former manager of rock band Simple Minds said on Twitter.
"Will the banks and suppliers help them?"