NHS pension reform: Bid for Scots alternative ends in failure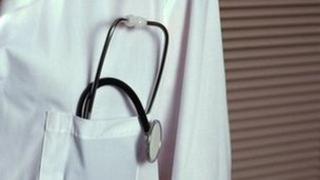 Health unions have expressed disappointment after the failure to find a Scottish alternative to proposed UK-wide pension contribution increases.
The unions had been in talks with the Scottish government.
But they have confirmed that they accept ministers have little scope to pursue a separate policy.
BMA Scotland stated: "Tinkering around the edges will do little to mitigate the most damaging elements of the UK-wide pension reforms."
The Scottish government had argued that it would lose millions of pounds from its UK counterpart if it failed to increase employee contributions.
Dr Alan Robertson, who chairs the BMA's pensions committee, said: "The BMA, along with the other health trade unions in Scotland, have decided not to continue with the Scottish-level talks on NHS pensions.
"At a meeting this week, it was agreed that there was little point in pursuing separate Scottish negotiations on changes in light of the Scottish government's inability to negotiate on any significant detail of the reform proposals."
'Same attacks'
In November, BMA members in Scotland voted against strike action over the reforms and it will now concentrate on opposing the changes as part of the consultation process both in Scotland and at Westminster.
Unite Scotland criticised both the Scottish and Westminster governments after being informed that the Holyrood administration "could do nothing to counter constraints placed on them by the Chief Secretary to the Treasury, Danny Alexander".
Regional industrial officer Gordon Casey said: "It would seem the Scottish government were content to play politics with people's pensions, while the Westminster government are determined to wreak havoc with them.
"As it stands, NHS workers in Scotland will now suffer the same attacks on their pensions as colleagues in the rest of the UK - pay more, work longer and get less.
"Unite refuses to accept Danny Alexander's cuts agenda, but we believed the Scottish government had an opportunity to defend these pensions in the face of the coalition's austerity measures and we still do."
'Punitive financial penalties'
Unite has refused to sign-up to the Westminster coalition government's NHS pension reforms, claiming that the NHS pension scheme currently generates £2bn a year more in contributions than it pays out in benefits.
A Scottish government spokesman insisted it had little room for manoeuvre as, had it refused to increase employee contributions in Scotland, it would face £100m reduction in payments from Westminster - amounting to more than £8m less for public services each month.
"The punitive financial penalties which Scotland would face for failing to increase employee contributions, and the limitations which the UK Public Services Pensions Bill place around Normal Pension Age, have severely constrained Scotland's room for manoeuvre with regard to public sector pensions," added the spokesman.
"However, we remain committed to taking a partnership approach on this issue and, whilst the NHS Scotland Pension Negotiating Group has been discontinued, it has been agreed that discussions on Scottish NHS pensions can continue through the already existing Scottish Pensions Group, which all Scottish healthcare unions feed into."