Farming incomes in Scotland 'fall by a fifth' from 2011 high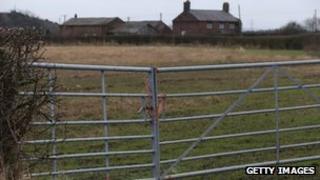 Farming incomes have fallen by almost a fifth in real terms over the past year, new figures reveal.
The total income from farming across Scotland dropped £111m to £635m last year, initial estimates suggest.
That is down 15% on the 2011 total, before accounting for inflation, or down 19% in real terms.
The average farm business income last year was £45,000, down £1,000 on 2011, when incomes were at an all-time high, the figures show.
Rural Affairs Secretary Richard Lochhead said increased costs, such as for fuel and fertiliser, were partly to blame for the fall last year.
Changes in the exchange rate also reduced the value of European payments made under the Common Agricultural Policy (CAP), he suggested.
'Still disappointing'
"Given the many factors that together made life more difficult for the industry in 2012, it might not be surprising, but it is still disappointing that the income figures have fallen back from last year's highest-ever position," said Mr Lochhead.
"These figures illustrate the impact on incomes that have resulted from poor weather, rocketing input costs and a decline from last year's often-record livestock prices.
"Although some factors can't be influenced, I am keen to work with the industry to build greater stability into Scottish agriculture through securing new markets, tackling input costs and securing a successful outcome from the current farming negotiations in Europe."
Tory rural affairs spokesman Alex Fergusson said that the "cumulative impact of market prices, rising costs, exchange rates and the truly appalling weather over the last year has taken its toll" on farmers.
"The whole agricultural sector has taken a heavy hit, which will be felt all the more severely as agriculture was still recovering after many difficult years," he said.
"This makes it all the more important to ensure the best possible outcome for Scottish agriculture from CAP reform."