Primary teacher training numbers to be increased in Scotland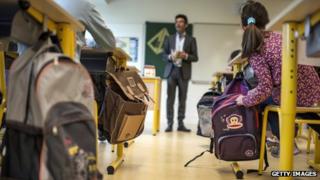 A squeeze on teacher training in Scotland is to be reversed with a £2.9m investment in extra places for prospective primary school staff.
It is a result of increasing confidence by the Scottish government that high unemployment among new teachers is ending - and the birth rate is rising.
Two years ago, only 16% of new teachers walked into permanent full-time jobs.
Now, more than 60% have full-time work, although for many it is on a temporary contract.
Teacher unemployment is now at its lowest level since 2007, according to the latest figures, and Scotland has the lowest level of teacher unemployment in the UK.
The improvement is largely down to a sharp cut in the number of training places - and to a big rise in the number of teachers retiring.
Rebalance intakes
The Scottish government said it hopes to end the boom-and-bust cycle of the last 10-year period when the number of places massively expanded then contracted.
Following efforts to rebalance intakes, the total number of student teachers has already increased by 670 over the last two years.
From the autumn, there will be an extra 370 places, bringing the total to 1,000.
It is hoped that this will help relieve the shortage of supply teachers to fill in for absent staff and meet growing demand because of "increasing number of under-fives in Scotland who will soon enter primary school".
Speaking at the University of Aberdeen, which will offer some of the new teacher training places, Education Secretary Mike Russell said: "We inherited an unsustainable position in teacher employment.
"We have addressed this by taking difficult decisions.
"As a result of those actions, we continue to see year-on-year improvement in teacher unemployment and the expert workforce planning group now recommends an increase in teacher training places - advice I am delighted to accept."
He added: "I want every person who commits to teaching our children and young people to have job opportunities at the end of their study.
"Universities across Scotland will offer places and I know our councils will continue to meet their commitment to maintaining teacher numbers in line with pupil numbers."
'Key challenge'
Secondary teaching numbers will remain static.
The extra funding will bring the total number of student teachers recruited to universities for 2013/14 to 2770.
Teacher training places are provided at eight universities - Aberdeen, Dundee, Edinburgh, Glasgow, Stirling, Strathclyde, West of Scotland and the Open University.
EIS general secretary Larry Flanagan said more new teachers were needed to bring in fresh talent and keep class sizes down.
However, he added: "The key challenge is to ensure that there are a sufficient number of secure, long-term and permanent jobs available for newly-qualified teachers.
"Over the past few years, the lack of secure jobs - coupled with changes to the pay and conditions of supply teachers - have combined to force many new teachers to seek employment elsewhere."