Ash dieback now at 40 sites in Scotland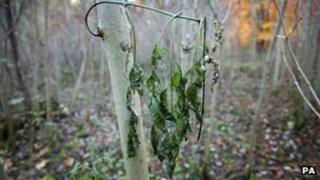 More cases of the fungal disease affecting ash trees have been discovered in Scotland.
Cases of Chalara fraxinea or ash dieback have been detected at 40 sites around the country.
The Scottish government said the disease was "here to stay" but they were working to reduce the spread.
The Forestry Commission said the cases were identified after 2,730 sites were looked at as part of a rapid response survey.
Environment and Climate Change Minister Paul Wheelhouse, said: "We continue to work closely with the UK Government on seeking to minimise the impact of this disease and in pressing for a review of the EU Plant Health regime but we are now focusing on developing a Scotland specific Chalara action plan.
"There can be no quick fix. Chalara is here to stay.
"But we will give ourselves the best chance of ensuring ash remains - in some measure - a feature in the Scottish landscape by applying co-ordinated research effort, remaining vigilant for new outbreaks and taking targeted action where it is most likely to reduce the rate of spread or severity of the disease."
In November, 23 sites in Scotland had been identified as having the disease.