Snow and ice warnings remain across Scotland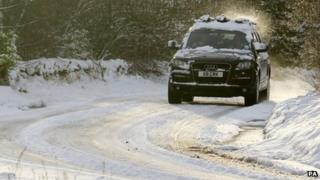 Fresh snow showers and icy conditions overnight into Wednesday could continue to disrupt travel.
The Met Office has issued yellow - be aware - weather warnings for snow and ice affecting all of Scotland except for the west coast during Tuesday evening and Wednesday.
It said heavy snow showers and severe drifting could affect upland parts of Grampian and north Highland.
Further south, it warned of icy stretches on untreated roads.
The ice warning covers Strathclyde, south west Scotland, Lothian and the Borders.
Scottish Borders Council (SBC) advised drivers that "hazardous conditions" were likely to continue.
Rob Dickson, director of environment and infrastructures at SBC, said: "Whilst snowfall has not been as significant as two weeks ago, temperatures have remained below freezing all day.
"This means that although primary routes have been ploughed and salted twice already today motorists will still be experiencing difficult driving conditions with some snow and ice on the road.
"As always our priority is to maintain our primary network in the safest conditions possible, so while some secondary routes have been treated, many have not been."
Mr Dickson added: "At this point, with the forecast suggesting freezing conditions and further snow showers throughout the night and into tomorrow, it may be later tomorrow before resources are available to treat secondary routes.
"We cannot over-emphasise that people should take extra care on the roads and drive to the prevailing conditions."
The Met Office said further wintry showers in the overnight period were likely to increase the ice risk by dawn on Wednesday.
For the Highlands and Grampian, as well as Tayside and Central, forecasters said ground above 250 metres would see fresh accumulations of snow, possibly 5cm to 10cm over higher parts, with severe drifting in the northerly gales.
On Tuesday morning, Northern Constabulary said a number of roads were affected by snow and ice, particularly in more rural areas.
In Dumfries and Galloway Constabulary there was about 5cm of snow on most roads and freezing conditions overnight.
This led to a total of 23 schools in the region, mainly in the north and east, closing for the day.
Scottish Borders Council advised drivers of hazardous conditions in light of the weather forecast.
Police in Grampian urged drivers to take care on all routes, due to some "hazardous" driving conditions, and some roads were closed.