Giving the opposition what they want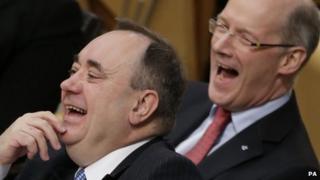 Alex Salmond launched a satellite today. Och, behave yourself, Brian. Of course he didn't.
Activities in outer space are reserved. For now.
Rather, Mr Salmond was offering his first ministerial fiat to an exciting project: a Clyde-built nanosatellite which will find a slot on a Russian Soyuz-2 rocket later this year.
However, if Mr Salmond does have any longer-term ambitions for a Scottish space programme, he will have to persuade his finance secretary, John Swinney.
And Mr Swinney, socially affable, is back in stern mode.
At Holyrood today he was seeking support for his Budget Bill for next year. Later, MSPs are expected to approve it in a final Stage Three vote.
The SNP has a majority at Holyrood. He can rely upon the votes of backbenchers. (And, if any are discomfited, the first minister can put a rocket . . . oh, stop it.)
But, in these troubled times, it is politically sensible to behave consensually or, at the very minimum, to project such an appearance.
So Mr Swinney gave opposition parties what they wanted: to listen to him. Or rather he didn't: to listen to them.
There has been a quite remarkable and persistent row over college funding.
It was always unfair that relatively little attention was paid to this sector. But it was, in practice, true. The political pitfalls lay in university funding and schools provision.
Somehow, partly through diligent lobbying by the sector itself, partly through political pressure, colleges have become seriously salient, electorally.
John Swinney knew he had to do something.
And so he has ameliorated a planned cut of £35m with £10m for next year, 2013-14. And, quite exceptionally, he has told them they can expect extra cash next year, 2014-15.
So the college sector can expect a total of £522m in revenue spending for each of the next two years. Stable funding - although, of course, combated by inflation.
SNP members applauded wildly at the announcement. Cue Gavin Brown of the Tories who chided them for lauding what still amounts to a cut in spending for next year.
In an effective contribution, Mr Brown also contrived to produce the best gag.
'Nothing new'
The session had opened with construction noise from outside. (Contractors are building an entirely necessary, thoroughly warranted security entrance which is not at all costly.)
In the chair, Presiding Officer Tricia Marwick voiced displeasure that debate was being interrupted in this fashion. Presumably, her displeasure was conveyed - as the noise stopped.
Mr Brown said this summed up John Swinney's approach. The minute he opened his voice, Scotland's construction sector ground to a halt. (Ok, maybe you had to be there.)
Labour's Ken Macintosh - volubly supported by his leader - said the finance secretary's approach contained nothing new.
Nothing to reverse Scottish economic sluggishness. Labour, he said, had advanced affordable ideas: on colleges, rail and housing.
However, Mr Swinney appeared less than content. He had grimaced slightly during Mr Brown's drollery.
To Mr Macintosh, he was robust. Labour, the minister insisted, was trying to face multiple ways at once, promising funds for everyone. Mr Macintosh demurred.
So where is Mr Swinney finding his money? In the short term, by squeezing the loan resources available to Scottish Water and shuffling cash in the Renewable Energy Investment Fund. Plus a host of minor changes elsewhere.
As well as the college cash, there is enhanced capital for housing. (Those of you who were wise enough to listen to GMS this morning will know this already.)
There's a bit more to bring vacant town centre properties into residential use. And there's £10m more for trunk road maintenance.
The broader strategy? Self-evidently, to produce a balance budget, as per the law. Once again, to divert as much as feasible to capital investment.
And, above all, to seek to pacify, once and for all, the political controversy over college funding.