Another fine mess at RBS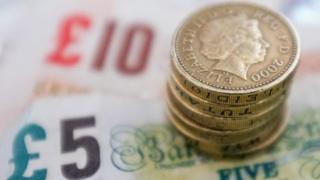 There is at least some good news for Royal Bank of Scotland, as its finance director writes three cheques for fines totalling £391m.
At least it's not being accused of its senior managers lodging false information on its interest rates to cover up for the bank's riskiness.
As both chairman and chief executive pointed out, without having to name names, that's unlike Barclays.
There, it was found that the submissions to Libor (the daily fix on interest rate for lending between banks) were lowered to cover up the risks it faced in 2008.
There's no evidence of RBS doing that. But then, the investigators' findings on more lowly traders activities, published on Wednesday, point out that conversations about the rate took place, and you can never know how much difference that made.
The incriminating stuff, however, is when it gets written down. And as traders at both Barclays and RBS have found out, it's a tad humiliating to find your bad spelling, office flirting and blatant fraud have proven so expensive for your (former) employer.
It suggests that the supposedly rare skills for which we pay so handsomely at the big investment banks are not necessarily linked to high levels of intelligence.
On the contrary, publication of the instant message exchanges provides a reminder that the magic hand of markets can be controlled by idiots.
Bonuslessness
The bad news for the top brass, who keep their jobs at RBS, is that this is a scandal that's happened on their watch. And even though the evidence runs two years past the end of the Fred Goodwin era and collapse, it was only last March - three and a half years in - that they put in place the necessary controls to ensure such abuse of the market cannot take place.
They're paying a heavy price in their much-loved/much-maligned bonuses. In the next two weeks, ahead of RBS's annual results being published, the bank will have to set out its bonus policy.
That will take a £300m hit, as a result of the fines, and we're told we'll be able to see how that comes partly from 2012 bonuses and also from previous years' longer-term incentives. Those most affected will be 1500 people in the investment bank division where the Libor rigging took place.
Mr Hester wouldn't say how much the cut of £300m will leave in the pot.
Not much for him, anyway, as he's already foregoing his 2012 bonus as penance for RBS's IT meltdown last summer.
Blood on the carpet
He has previously argued that RBS needs the freedom to recruit, reward and retain the quality of people necessary to generate profits and get it back on its feet again. That means competing with other banks, which don't have majority state ownership.
One of the factors to have changed is that those other banks are coming under political pressure as well - particularly Barclays, which has had some bruising encounters of late with the Parliamentary Banking Commission.
Next Monday, it's the turn of Stephen Hester and Sir Philip Hampton in front of a panel that, oddly, includes the new Archbishop of Canterbury.
Facing questions about whether responsibility should have been shouldered with a resignation or two right at the top of the bank, the chairman said that he doesn't recognise the demands for heads to roll simply "to get blood on the carpet".
Sitting alongside him, Stephen Hester made clear that he'll go if he loses the confidence of his bosses, meaning both the board of directors and his majority shareholder, the Chancellor.
He remains safe because his is the only RBS recovery plan in town, and he's still seen to the guy who can implement it. He's been helped by Wednesday's London news artillery focussing its firepower on scandal in the National Health Service.
And he can also point to a share price that's risen a long way from last summer.
From a low of 193 pence, it closed on Wednesday at 342p, up on the day by 1.4%. The market had priced in the Libor fines. It remains a rocky road ahead, but just maybe the Royal Bank can now move on towards the taxpayer's break-even point, just above 500p.
You can also comment or follow Douglas Fraser on Twitter: @BBCDouglsFraser