Horsemeat contamination tests begin in Scotland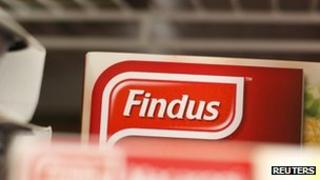 Scottish councils are to carry out food standards inspections after it emerged that some processed "beef" products contained up to 100% horsemeat.
Public health minister Michael Matheson said the Food Standards Agency (FSA) had arranged for councils to inspect relevant businesses and manufacturers.
He said the initial focus would be on manufacturers of processed meat.
Environment minister Richard Lochhead said no Scottish manufacturers were currently affected by the scandal.
The discovery of such high levels of horse meat suggests "deliberate fraudulent activity", according to the Trading Standards Institute.
Bosses from leading supermarkets attended a meeting at the Department for Environment, Food and Rural Affairs (Defra) in London earlier to discuss the crisis with government ministers.
All the major chains have withdrawn products over fears of horse meat contamination.
The talks came as frozen food company Findus UK reiterated its apology after tests found up to 100% horse meat in some of its beef lasagnes.
Supermarket chain Aldi also confirmed that two of its ready meal ranges produced by Comigel, the French supplier also used by Findus, were found to contain between 30% and 100% horse meat.
Work is now under way to ensure Scottish-based manufacturers of processed meat products have the right measures in place to prevent contamination.
Mr Matheson said the FSA in Scotland had made arrangements for local authorities to carry out a series of food standards inspections, on top of "stringent" controls already in place.
The minister said: "It is the responsibility of the food industry to produce safe food that is accurately labelled and does not mislead consumers.
"Scotland already has a stringent set of regulatory controls in place to underpin food safety and confidence but we are determined not to be seen as in any way complacent.
"That's why we are speaking with the FSA on a daily basis to ensure we are fully engaged with this situation as it evolves."
Mr Lochhead said action was "essential" to prevent any damage to the reputation of Scotland's food industry.
He said: "It is completely unacceptable that consumers are being misled about what is contained in the food that they buy, and that multi-national companies have allowed this to happen.
"I am urging the European Commission and the UK government, who have responsibility in this area, to get to the route of this matter immediately.
"While no food safety risks have been identified by the FSA so far, it is essential that this scandal is addressed to eliminate the public's sense of confusion and to prevent any damage to Scotland's highly regarded food industry, whose success is built on a reputation for quality."