Scottish independence: London calling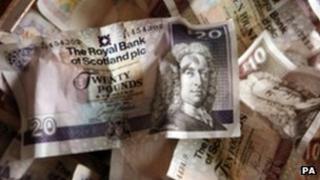 Credibility and stability; two key ingredients an independent Scotland would require if Holyrood is to take over the levers of power after the referendum next year.
And what we've learned today from the working group of economists, asked by the Scottish government to draw up a blueprint for power, is that credibility and stability will require Scots to do an elaborate deal with London.
As economics goes, their report is a very interesting read. Whatever you think of its origins or its recommendations, it's an accessible and thorough analysis of the state of the Scottish economy and public finances.
It's hard to fault the heft of its authors, boasting two Nobel prizes in economics; that of Joseph Stiglitz and Professor Sir James Mirrlees, an expert in economic models "where information is asymmetrical or incomplete". Very useful expertise in this case.
Because its authors are mostly based outside Scotland - Stiglitz is an eminent American economic adviser, another is Irish, two of the three Scots are exiles - it brings fresh eyes to the economy.
That has a downside as well as a freshness. You get the feeling from the academic mindset of most working group members that the prospect of Scotland becoming independent is a fascinating intellectual project.
It's both fresh and sometimes a bit naïve to de-link so many choices from the politics involved.
The main element of the politics is the assertion that it's in the interests of the rest of the UK (rUK) to do a deal with a newly-independent Scotland.
And what a deal it would be; telling Westminster it's in the interest of MPs to surrender their parliament's autonomy over running up deficits and debt - a constraint that the European Union has never applied to the London government.
That same constraint would apply to the independent Scottish government, which is a significant compromise on the notion of Scottish independence too.
The proposed deal would also require the Treasury in London to give up its sole oversight of the Bank of England, and to share that with the government in Edinburgh.
The idea is to take a shareholding stake of nearly 10% in the Bank of England. The Fiscal Commission Working Group has based that on a population share of an institution which Scotland has shared within the UK.
Nationalists can argue that means 10% more of a stake than Scotland has had before. At present, it has no formal representation beyond some information-gathering by a Scots-based Bank agent.
But if the Bank of England's ownership is to be shared, any divergence of interest between Holyrood and Westminster would leave Scotland stuck, permanently, on the losing side.
Scotpound
Doing such a deal on sticking with sterling dominates the Fiscal Commission report. It doesn't spend much time on the appeal of the euro to an independent Scotland. Nor does it consider for long the exposed implications of using sterling without getting an agreement on the currency and Bank of England.
It does, however, leave the door open to Scotland opting for its own currency quite a long way further down the road, giving Holyrood much more genuine independence.
Chairman Crawford Beveridge told me today that would be very hard on day one, as contracts, savings and loans would have to be re-denominated. That wouldn't help much with credibility, and far less so with stability in the early days.
So why is it that the deal outlined by the Fiscal Commission would be attractive to the rUK?
The report, while offering extensive evidence in other areas, doesn't offer much evidence in response to that, beyond an assertion that Scotland is already an important trading partner for England, Wales and Northern Ireland, and already highly integrated.
So, it's argued, it would be in the interests of rUK to do a deal to boost trade, competitiveness and financial stability.
Big imbalance
Roughly speaking, Scotland sells £45bn in goods and services to the rest of the UK, and it buys, again roughly, the same amount.
For every £1 in overseas exports, there are sales of £2 to rUK.
So, the case for Scotland to adopt sterling is clear. But Scotland only represents around a tenth of the significance to businesses trading from the rUK.
Even if it's agreed that there is a shared interest in reaching a deal, that's a big imbalance with which to start out on negotiations.
In other words, Scotland would need that deal a lot more than its neighbour, and the conditions placed on such a deal might be expected to reflect that.
You can also comment or follow Douglas Fraser on Twitter: @BBCDouglsFraser