Cat safety warning after six deaths in Ayrshire town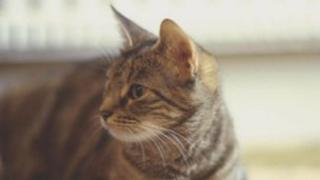 A warning has been issued after six cats died of suspected poisoning in an Ayrshire town within a month.
The Scottish SPCA is appealing for information following the spate of deaths in Kilbirnie, with Heriot Avenue "an area of particular concern".
Scotland's animal welfare charity thinks someone could be targeting the animals.
And it is urging pet owners to be on their guard, particularly if they are letting their cats out of the house.
Several of the cats came from Heriot Avenue and Ch Sup Mike Flynn said: "The fact that these cat deaths have happened within a short space of time and distance raises the possibility that someone may be deliberately targeting the animals.
"We are keen to speak to anyone who knows anything about this matter and we'd also like to speak to any cat owners who believe their pets may have been poisoned.
"In the meantime, we want pet owners in the area to be aware of the potential danger and to remain vigilant."
Anti-freeze risk
The SSPCA has repeated previous warnings about anti-freeze (ethylene glycol), which is one of the most common causes of cat poisoning, particularly in the winter months.
Usually colourless and odourless, the liquid has a sweet taste.
By the time symptoms such as vomiting, lethargy and, in the latter stages, head shaking and coma occur it is often too late to treat.
Renal failure is frequently the cause of death, with damage to the kidneys, brain, liver and blood vessels.