Singing kettle: Cilla and Artie take final curtain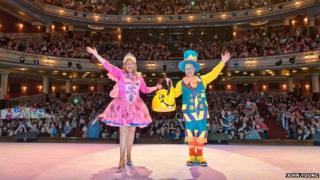 The husband and wife team who founded the Singing Kettle have taken their final curtain call after 30 years with the children's entertainment troupe.
Cilla Fisher, 60, and 65-year-old Artie Trezise have hung up their kettle as their latest tour comes to an end.
The show at Edinburgh's Festival Theatre marked the end of an era but the Singing Kettle will be continuing.
A new tour kicks off in March, with long-term cast members Gary Coupland and Kevin Macleod.
They will be joined by a new female member.
Cilla and Artie, from Cupar in Fife, who have been married for nearly 42 years, are expected to still be involved in direction and songwriting.