Man head-butted Somali boy suffering from leukaemia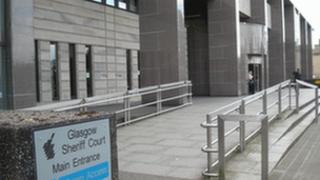 A man who head-butted a 10-year-old leukaemia patient who was walking home after swimming with friends has been found guilty of assault.
The schoolboy, from Somalia, said he had been knocked unconscious by John Cassidy, 26, while on his way home from Springburn Leisure Centre in Glasgow.
Cassidy stopped his car and chased the boy, who had spat chewing gum onto the road.
Sentence at Glasgow Sheriff Court was deferred.
Giving evidence behind a screen, the boy told the jury he had been diagnosed with leukaemia in 2009 and was still receiving chemotherapy and medication when the incident happened on 16 October 2011.
The boy, who cannot be named for legal reasons, told procurator fiscal depute Natalie Henderson: "I was drinking Dr Pepper and taking gum because I was feeling sick, I was taking steroids and stuff."
'Racist things'
Jurers heard that he stopped and crouched down, put his bottle of juice on the ground and spat his chewing gum onto Fountainwell Road, only for his friends to shout at him to run.
Asked why his friends had issued the warning, the boy replied: "They saw behind me someone running."
He said he heard "swearing and racist things" being shouted at him as he ran.
The boy said he stopped and turned towards the man - who he described as wearing blue trousers and a white t-shirt - who was running at him and that is all he remembers.
"That's all I saw, him run at me," he said. "My friends told me he head-butted me."
The court was told that, since the incident, the boy has been afraid to go outside in case he is attacked again, and he has not been to that leisure centre since.
Passing car
Asked why his family had since moved to London, the boy said: "Because of the accident. I was having nightmares and scared to go outside."
The boy's 14-year-old friend gave evidence that, when they were walking home and the boy spat out his chewing gum, it hit a passing car.
"The car stopped and the person came out and started chasing us, then the five of us got split up, then the person caught up with (the boy) and attacked him by head-butting him," he said.
Miss Henderson put it to the 14-year-old that the man "accidentally ran into" his friend.
"I wouldn't say it was an accident because he seemed angry," he replied.