Frozen beef products put on hold by Scottish councils and schools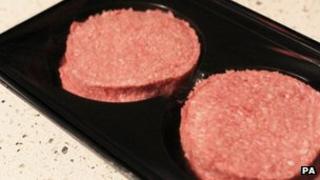 Scotland's councils have been told not to use any frozen beef products following the discovery of horse DNA in a school canteen burger.
Procurement agency Scotland Excel had already advised local authorities to place on hold the use of frozen beefburgers following the discovery.
But that has now been extended to other beef products, such as mince.
It has also been revealed that the burger containing horse DNA was supplied to Cumbernauld High School.
A spokesman for the Brakes Group, which supplied the burger, confirmed: "On February 21 we were informed by the Food Standards Agency (FSA) that a frozen beef burger had tested positive for horse DNA following a sample taken from a local authority school in Scotland.
"Before this incident, Brakes has already received negative test results on all 127 beef products supplied to that customer.
"In addition, Brakes had received 32 negative tests results on products that we buy from the same supplier and they, in turn, had 28 negative tests on finished products and raw material they handle."
Renfrewshire Council this week withdrew products sourced from the Brakes Group after horse DNA was detected in lasagne the firm produces for a pub company.
Following the latest discovery in Cumbernauld, North Lanarkshire Council said: "It is simply unacceptable to the council that a supplier would supply a product containing horse DNA to one of our schools.
"We will continue discussions with Scotland Excel with a view to ensuring we are satisfied with the integrity of food supplied to us.
"In the meantime, we have removed all frozen beef products from our menus across all our premises.
'Consumer confidence issue'
"We will continue to carry out additional testing in the coming days.
"We cannot confirm that these products have not been consumed. However, the consumption of horse meat is not considered harmful to health.
"This is a consumer confidence issue: when we buy a product we expect it to contain what it says on the label."
Public Health Minister Michael Matheson said two weeks of meat testing across the UK had found "isolated positive results" for horsemeat in beef products.
"Tests and inspections continue to be carried out across the private and public sector in Scotland," he said.
"The first positive result in Scotland's public sector was recorded last night in North Lanarkshire.
"As has been the case across the country when a positive result has been recorded, appropriate steps have already been taken to withdraw the mislabelled product.
"We welcome the further precautionary step that Scotland Excel has taken, which is to withdraw all frozen beef products until further testing has taken place.
"It is completely unacceptable that any mislabelled products are supplied to food outlets or retailers in Scotland."