Trade replacing African aid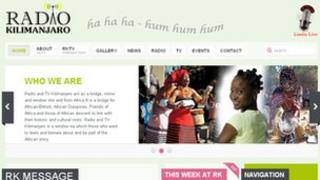 Within a kick of the ball from Ibrox stadium, I've found a little piece of Africa.
It's not the most impressive of buildings, but along with a lot of fresh plasterboard, you can see work in progress on big ambitions.
Radio Kilimanjaro broadcasts online from there in English, French and sometimes in Creole. A TV studio is being built.
The Next Step Initiative is constructing a kitchen so Glasgow's African women can run a cafe while training to set up their own food outlets.
There's a suite for training Scottish Africans in financial services skills, rooms tooled up with drums for music practice, and a recording studio's under construction.
Behind this project is a team led by Beltus Etchu, chief executive of the Scottish Africa Forum. He was a refugee from Cameroon 11 years ago, since when he's gained three degrees and an ambition for the varied African communities around Scotland.
Out of 54 sub-Saharan nations, he reckons 40 of them are represented in Scotland. That's a big lift since the start of the century, though there's a lack of proof. We may find out when details of the 2011 census are published.
Distant gas markets
The new vibrancy of this ethnic minority is mirrored back on the African continent. For this week's Business Scotland programme, on BBC Radio Scotland, I've been finding out how aid is giving way to trade.
Several African countries are among the fastest-growing in the world. Among those that were recently at the bottom of the GDP table are Mozambique and Tanzania. They're now looking at oil and gas developments that will cost tens of billions of dollars.
Tanzania is reckoned to have enough gas discovered already to meet Britain's demand for 30 years.
Of course, it's not that simple. Oil reserves that are rich in gas need to find some outlet, other than flaring, and liquefying it for export to distant markets is expensive but looking increasingly achievable.
Bowleven, an Edinburgh-based oil exploration company, has just announced very promising new data from drilling in shallow waters 25 kilometres off the coast of Cameroon.
Focused on Africa, it first found gas nearly 20 years ago, but chief executive Kevin Hart explained to me that the lack of infrastructure and the lack of a market for gas has held back development.
The government's plan now is to help Cameroon's poor balance of trade in agriculture by using the gas to power a new fertiliser plant, while putting the oil on the international market.
While metal ores are being exploited on a vast scale, largely by Chinese companies shipping in their own workforce to build the infrastructure, oil and gas is the driver of much of the growth in Africa.
It's not only offshore on east and west coasts, but in the Great Rift Valley, Kenya is proving a happy hunting ground for drillers.
Malawi, with strong Scottish connections, remains one of Africa's poorest nations. It is unknown territory for the oil and gas industry, but it shares some of Kenya's geological characteristics.
The government in Lilongwe is licensing blocs for drilling and, 200 years next month since the birth of David Livingston, the first Scot to venture into that part of the world, Bowleven hopes to follow.
Little Aberdeen
However, the chosen place to focus Scotland's efforts in the continent is Ghana. Mark Hallan is director for Africa in Scottish Development International, the Edinburgh government's trade promotion body.
While Ghana still has a long way to go with infrastructure, from roads to only four business-class hotels, it is seen, along with Rwanda, as one of the developing world's most business-friendly locations.
It has only 2% of Nigeria's oil reserves so far discovered, but it has a port dubbed 'Little Aberdeen', where it plans to build a hub for the region's offshore activities.
A trade mission went there at the end of last year. As a result, this weekend, it's being announced that three north-east companies - Paradigm Flow Services, Online Valves and Optima Solutions - have quickly moved to sign deals, with more follow-up inquiries in the pipeline.
Land grab
It need hardly be said that the contemporary Africa story is not without its challenges. As I heard for the radio programme from veteran Africa-watcher Richard Dowden, of the Royal African Society, the burgeoning middle class is at risk of living in a bubble.
And, with a very young population wanting to share in the benefits of growth, and with too many rulers keeping the spoils of growth to themselves and their elite, there's a real risk that the bubble could be burst by social unrest.
Dowden portrays China's fast-growing presence and influence on the continent as welcomed by most Africans.
That's partly because China doesn't lecture them on governance and human rights, and it treats them as partners, without Europe's post-colonial baggage. It's also because China produces consumer goods at prices Africans can afford.
The Chinese are going after land for food production, however. And that is a very sensitive topic in much of Africa, as President Robert Mugabe has demonstrated in Zimbabwe.
Hear about more Scottish companies opening up opportunities in Africa on Business Scotland this weekend. It's on BBC Radio Scotland at 06:05 on Saturday and 10:05 on Sunday. It can be later be heard on BBC iPlayer and by free download.