Horsemeat scandal: Ministers call school meals sourcing summit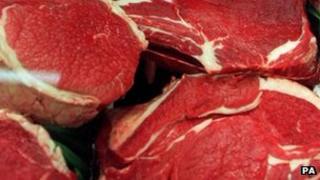 Ministers are to invite councils to a summit on the sourcing of school meals in response to the horsemeat scandal.
The Scottish government said it wanted to ensure as much locally sourced food as possible was served in schools.
They also plan to discuss ways to "drive up standards and quality even more in future".
The Scottish Conservatives called for an emergency statement to parliament on the "escalating horsemeat scandal".
The summit plans come days after councils were told not to use any frozen beef products following the discovery of horse DNA in a school canteen burger.
Procurement agency Scotland Excel had already advised authorities to place on hold the use of frozen beefburgers.
Education Secretary Mike Russell said school meals had already been greatly improved in recent years but the horsemeat scandal had "thrown a spotlight" on the sourcing of school food.
"Local authorities are rightly concerned that the good work going on to improve food in schools is being missed while we deal with the consequences of the current issue," he said.
"We want to work with local authorities to be sure that best practice in procurement is routine in councils and that the procurement reforms we introduced are working well."
Scotch beef
Rural Affairs Secretary Richard Lochhead said the recent horsemeat issue had "absolutely underlined that there is no substitute for quality".
He added: "In Scotland, local authorities are already looking to use the best ingredients available on their doorstep more often than ever before.
"In East Ayrshire Council, on occasions that burgers are on the menu, they are made fresh from Scotch beef and recently a local Ayrshire butcher has stepped up and agreed to prepare them to the council's own recipe.
"I am keen to see more examples of this type of approach across Scotland."
But the Scottish Conservatives said that since Mr Lochhead made a statement to Holyrood last week insisting the situation was under control it had emerged that horsemeat may have been fed to pupils in Scotland's schools.
Tory leader Ruth Davidson said: "With every day that passes, it's becoming more apparent that Richard Lochhead has no idea how widespread this food scandal is in Scotland.
"We only heard half the truth when the minister made his statement in Parliament and the public now deserve to be told the full facts to help restore confidence in the food chain.
"The only way this can be done is for Richard Lochhead to come back to the chamber and give a full account of how widespread the problem of horsemeat contamination is in Scotland."
Ms Davidson also called for a commitment to restore £1m funding to the budget for the Food Standards Agency in Scotland.
Scottish Liberal Democrat rural affairs spokesman Tavish Scott said the horsemeat scandal was completely unacceptable.
He said: "The Scottish government must immediately change public procurement rules to guarantee quality local produce is prioritised in purchasing."
Mr Scott said he wanted action on the issue announced in parliament next week.