Action plan to improve A&E services in Scotland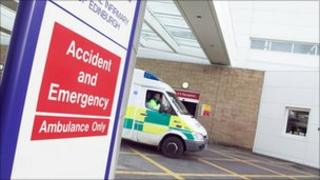 A £50m "action plan" to improve emergency care in hospitals has been announced by the Scottish government.
The government has been under fire over waiting times in Accident and Emergency and the investment is designed to transform services for patients.
Numbers of people going to A&E have risen and are forecast to continue rising due an ageing population.
The £50m will be spent over three years to speed up admissions and create more options for community treatment.
Over the past five years there has been an increase of almost 7% in A&E attendances and could increase 13.5% by 2020.
The action plan outlines aims to:
Improve the "flow" of patients through the hospital, ensuring clinical expertise is in place to support this at all times
Ensure senior doctors are always available at crucial points of the assessment, treatment and transfer of patients
Organise the "front door" of A&E and acute wards to meet population demands, including the growing number of older people who often have several long-term medical conditions
Co-ordinate safe community alternatives to going to hospital
Extend the range and flexibility of available alternatives, linked to efforts to simplify the system for patients and to use the non-emergency 111 service, which replaces NHS Direct in summer 2014.
The government said funding would also be earmarked to appoint more consultants in emergency medicine and related specialties who provide senior medical input into A&E departments.